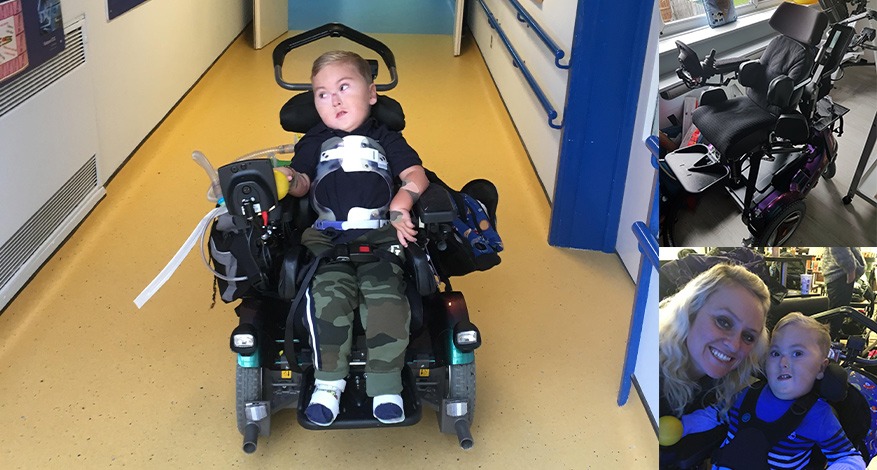 Disability
Vinnie James
Donation provides mobility and independence to toddler with Spinal Muscular Atrophy (SMA)
Two-year-old Vinnie James was diagnosed with type 1 Spinal Muscular Atrophy (SMA) at eight weeks old. SMA is a genetic disease, causing deterioration in nerve cells connecting the brain and spinal cord to the muscles. Type 1 is the most severe.
Vinnie's family had been campaigning to raise money for a Permobil Koala Power chair to provide him with some mobility and independence. As his mother Kelly told us: "He currently has to stay where we put him. He's a toddler. He should be running around causing mayhem but he's not able to."
The Axis Foundation initially agreed to donate £1500 to cover the cost of the deposit for the chair. However – touched and impressed by further successful fundraising efforts by the family – the Foundation donated the final £6,000 needed to buy the chair. The family was also supported by chairman of local charity Heart of Darts Ian Waller.
"Without the help of the Axis Foundation and the donation they've made to the chair, we are unsure whether we would have got it. Moving forward, the chair will grow with Vinnie and ensure his mobility and independence – you have changed all of our lives" – Kelly, Vinny's mother
The story continues…
Axis Operative Dan Ward (who was working near to Vinnie's home on a routine job) noticed how Kelly and the family struggled to manoeuvre Vinnie's previous chair through the front door of their property. So, he volunteered to fit and install a special door which was provided by supply chain partner Travis Perkins.
"The team at Axis saw what a struggle it was on a day to basis to get Vinnie in and out of our property. They came and fitted a specialist door that opens outwards making our life so much easier. This act of kindness is greatly appreciated by our family" – Kelly, Vinny's mother
In 2020, the Axis Foundation funded important and specialist physio for Vinnie – read our story here.