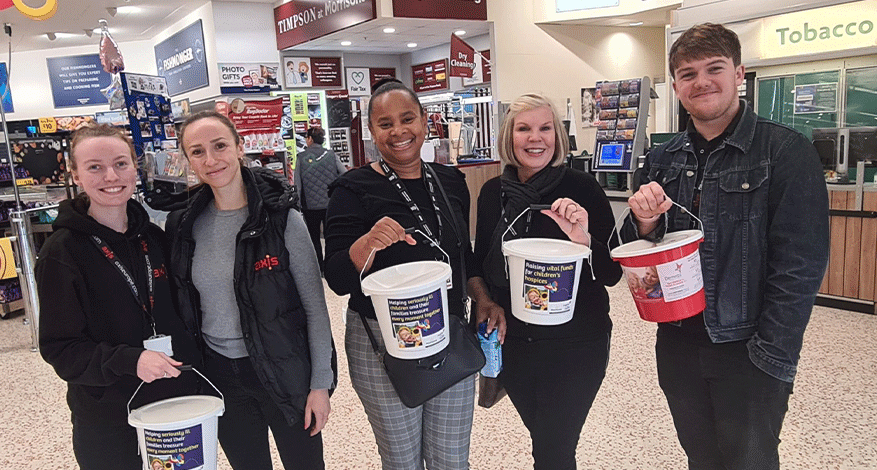 Demelza
Fundraising and Volunteering for Foundation and Demelza
There really are no limits to what our own Axis People will do to help the Axis Foundation and Demelza!
Everyone who works at Axis cherishes the Foundation and Demelza. We've been up (and got down) to many activities, Fundraising and using our Volunteering Days to support both causes close to our hearts. Here are just a few examples!
Fundraising for Demelza and the Axis Foundation
Ben Ibrahim, Divisional Manager, ran the London Marathon. Ben raised £14,600
Our Oldbury Team organised a fiendish Treasure Hunt for Halloween. Their devilish enthusiasm raised £45
Kellie Turner, Head of  Community Investment, and Oliver Refson, Head of Sustainability and Quality, abseiled down the ArcelorMittal Orbit in Stratford Olympic Park. Kellie and Ollie raised £1,500
With Croydon Council, our team in Croydon hosted an 11-a-side charity football match, raising £640
Volunteering to help our Foundation charities
Colin Norwood, Projects Supervisor, Joseph Hayes, Business Development Manager, and Kemeisha Brown, Resident Liaison Officer, all volunteered at Arts for All, a creative charity based in London which runs art therapy sessions for people with special needs.
Marketing crew Tim Aslett and Kurt Mussell volunteered at The AHOY Centre which helps disadvantaged children in Deptford learn life skills on the water.
HR Intern Grace D'Souza volunteered at Hope in Depression,  supporting individuals managing depression and/or anxiety.
Volunteering to support Demelza
At the Warehouse: RLOs Sarah Cooper, Martine Hales, Adila Gredelj, Donna Tryhall Adila Gredelj, Elma Gredelj, Christina Castle and Ben Nitsch, Electrician, sorted donated items at Demelza's warehouse in Maidstone, Kent for delivery to Demelza's charity shops.
And In the Garden: Lorrae Mannering, Commercial Manager,  Katie Hayes, Team Leader, Gary Weaver, Multi-trader, Bradley Emms, Groundworker, Michael Kitts, Multitrader Steve Hogben, Electrician Jake Remon, Apprentice Electrician, Emily Nisbett Commercial Analyst,  Stuart Carlow, Plumber, Thomas Darling, Apprentice Plumber, Ryan Kelly, Plumber, Louie Attaway, Plumber, Anthony Veal, Supervisor, Geoffrey Collins, Multitrader, Michael Kitts, Plasterer, Stephanie Hendry, Administrator and Amelia Randall, Scheduler, all spruced up the gardens at Demelza's Sittingbourne Hospice.
Two Sittingbourne operatives, Nigel Blackshaw and Dave Day, helped Demelza by collecting Christmas trees in Tunbridge Wells, Bromley, Medway and Swale. Demelza will use the trees for topping up bark pathways, mulching underneath trees and hedges and composting in the grounds of the Sittingbourne Hospice.
Main picture: Francesca Fordham, Rositsa Kormeva, Tanya Edwards, Sarah Cooper and Connor Ritson from Projects volunteered to raise funds at Morrisons in Thamesmead for Demelza.