Our charity partner Demelza is celebrating 25 years of delivering care that doesn't back down.
We talk to CEO Lavinia Jarrett – "Vin" to her colleagues and friends and family – as the birthday celebrations commence…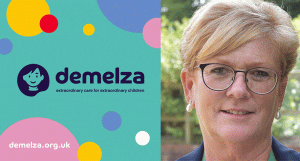 Hi Vin. How long have you been at Demelza now?
I have been at Demelza for 23 years – almost from the beginning. Time has flown by. Sometimes it seems like five years. I arrived at Demelza in 1999, just after the Kent hospice opened. I live locally to Demelza – so I watched it being built on what was muddy, clay-based 6.5-acre field. It was hard digging ! Since then, I have worked in practically every role in the organisation. Most recently, I was Deputy Chief Executive to Ryan Campbell. When Ryan moved on in 2021, I became Acting Chief Executive and was officially appointed as CEO in February 2022.
It is a real privilege working here, and it doesn't feel like a job, a sentiment that is shared and echoed by so many of the staff and volunteers that have been with us for years too. We have a fantastic history and the important relationships with our partners, including Axis and the Axis Foundation, form part of this.
Where were you working before you came to Demelza?
I worked in primary care, developing local outreach services and commissioning services from NHS Trusts and providers. I have also worked in heavy manufacturing and estate agency.
What changes have you seen since you arrived at Demelza?
Demelza has metamorphosised over the years. The greatest changes I have seen are in the complexity of needs, and in the numbers of babies, children, young people and their families needing our support.
Life expectancy has grown. Not that long ago, the life expectancy of someone with, for example, Duchenne muscular dystrophy was 14 to 15 years. Now someone with Duchenne can live to 32. That's why there are now approximately 90,00 young people across the UK who need support from their local children's hospice. Young babies with complex needs can often now can have longer lives too. We have expanded and adapted our services to meet this need.
The complexity is off the scale. For example, 25 years ago, we were just learning about ventilation for a young person or a child but now it is completely normal for us to provide this, and we are now able to support any complicated clinical needs. We are a nurse-led service and our nursing and clinical skills have grown and continue to grow and develop.
Our changes are driven by what our families are telling us; providing a choice of services and where these services are received is now available as a direct result of this feedback. For example, families can now request music therapy online or in their home; or they might want to come to us, get peer support here and some respite. Or a mix. Our care is personalised to every need.
So, it's Demelza's 25th birthday this year. Congratulations on your quarter century!
Thank you! We are having a whole year of celebrations. Our actual birthday is September with Demelza Kent first opening its doors in September 1998. Our birthday events include open days here at the hospice and a fundraiser ball at the De Vere hotel, amongst others. We are also holding celebration get-togethers with Demelza staff and volunteers too.
Can you talk us through your new look for Demelza – what was the thinking behind the change in branding?
Changing our branding is our long-term strategy, with the rebrand agreed in principle back in 2019. We had looked at it and felt it was not only starting to feel tired, but that it could better convey the expert care and services that we provide. Unfortunately, these plans had to be postponed due to COVID. Emerging from this with our 25th birthday approaching, we felt the time was right to rebrand and relaunch, modernising Demelza and shaping our image to be more accessible and far-reaching.
Our research organisation conducted a stakeholder survey last year and found that the word 'hospice' can be off-putting, mainly associated with death and dying, and detracts from the incredible range of services we provide, that are not associated with end of life care. There's a lot to be done, support to be had and given, memories to be made. We want people to see it as a vibrant time, and Demelza is a fun and vibrant place!
Our namesake, Demelza, was a beautiful young woman who was passionate about hospice care for children, and we wanted to pay greater homage to our origins by including her in our logo and bringing her to life.
We also wanted something that represented our persona more closely, adopting a softer tone of voice, and a narrative really explaining what children's hospices actually do and myth-busting to move the focus away from just end of life care.
One of the main changes was moving away from the colour red: it is the sign of danger. It also typically represents sales in shops; with a large high street presence, this is not reflective of the high-quality stock that we sell! Our retail outlets are often the first time many are introduced to Demelza and our new branding makes us more recognisable and identifies more clearly what we as a charity do. The blues and new colour palette are softer and offer more flexibility, and we softened the name, and type, with a lower case "d". Moving away from the red clown, we now have a more representative brand featuring a cartoon Demelza in our logo and with her friends, they will help tell our story.
Talk to us about our very long friendship: between Demelza, the Axis Foundation and Axis?
We are so grateful. I can't tell you. You have been on a such journey with us. Without your support, very few of the things I have mentioned would have been possible. You have empathy. You have raised our profile with a ripple effect, through talking to communities. We are incredibly grateful. I genuinely mean it, I really, really do. You are part of our team.
What you think and feel is really important to us at Demelza. We can come to you with ideas, and you help us develop them. And you come to us with ideas for us too.
We cannot do it with you. We want the next 25 years to be bigger and better for us all.