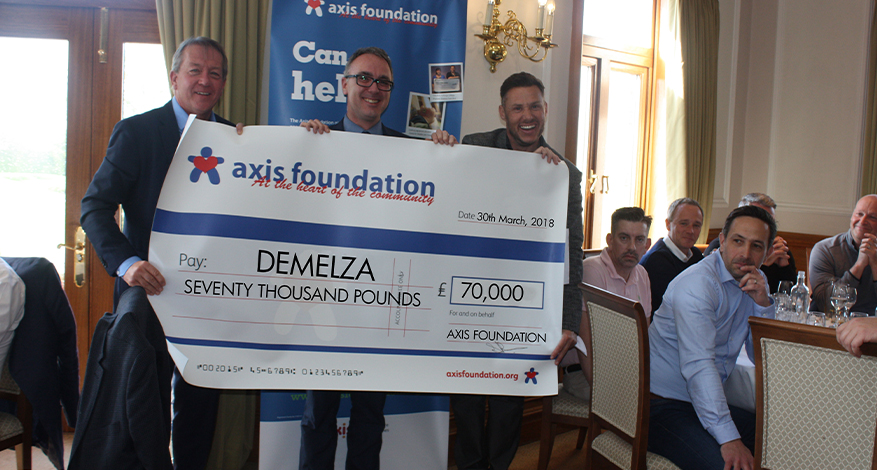 Demelza
Donation to Demelza – £70,000 – at our Golf Day
We presented our donation to Demelza  – a cheque for £70,000 – at the second Alan Curbishley Celebrity Golf Day in May 2018.
This took the total Axis/Axis Foundation donation to Demelza nearly £540,000.
John Hayes, Axis Europe's CEO, presented the cheque to our charity partner saying: "Demelza has remained dear to the hearts of all Axis people for a long time and we shall continue to support this incredible charity in their work 'adding life to days when days cannot be added to life.' I know that I speak for everyone at Axis when I say how profoundly moved and delighted we are to have a charity partner which has such an impact on those lives it touches.
"I am delighted to present this donation to Demelza: a cheque for £70,000 from all of us at Axis, knowing that this donation will make a real difference in Demelza's hands."
Ryan Campbell CBE, Chief Executive, Demelza Hospice Care for Children said: "Axis Europe and the Axis Foundation have been fantastic to us with unwavering, constant support for the last 14 years, raising over £540,000. We are so proud to be one of Axis's chosen charities.
We are overwhelmed every year by their kindness and generosity to the extremely ill children we support. We really couldn't continue to provide our tailored, expert care to so many families without them.
"On behalf of these babies, children and teenagers and their families; our staff and our volunteers, thank you so so much for this Donation to Demelza 2018."