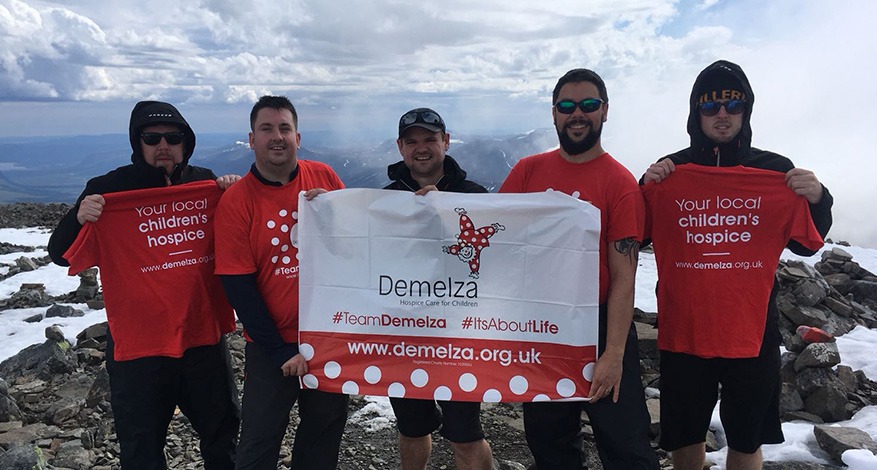 Demelza
Axis Arctic Challenge
Chilly Challengers Fly the Flag for Demelza on Arctic Fundraiser
Well done to the Axis Arctic Challengers who went all the way to the top of Mount Kebna in the Arctic Circle – raising funds for our Axis Foundation charity partner Demelza
The Chilly Challenge
Axis people Christopher Houlihan, Gary Perfect, Philip Twin John Bull and Daniel Blake decided they would take on the chilly challenges of the Arctic Circle to raise money for Demelza Children's Hospice, the charity partner of both Axis and the Axis Foundation  supporting children with life-limiting illnesses.
The Adventure Begins!
On the first leg of their Arctic Challenge fundraiser, the team arrived at base camp on the first night – in great spirits if a little burnt and tired! The following day they went from 25 degrees C to minus 10; sweltering heat to hail and glaciers; hot rocky terrain to waist-high snow drifts; suffering cramp, dizziness painful injuries and bearing heavy kit: our Arctic Challengers certainly had to dig deep to reach the heights.
Would they do it again?
In total the Arctic Challenge fundraiser provided £10,000 for Demelza. They said:
"Yes, without a doubt we would do it again. We got a real sense of achievement. We pushed ourselves to a place we did not know existed. Throughout the Arctic Challenge fundraiser, we kept thinking about the kids at Demelza. We had a hard few days. Their entire life is hard. The money we raised will make a difference."
An exclusive extract from the diary of the Arctic Challenge Team
"No sooner had we left the first valley did our fears become reality, a storm, fearsome freezing winds, hail & snow coming straight at us and whilst we needed to descend quickly our only route back was up into another valley totally exposed and heading into the storm. There was no safe opportunity for photos here. We stuck to what rockery we could but then found open snow to cross, increasing in distance as visibility was so poor and with the weather worsening all the time – thunder and lighting now!
"No option but to continue we pushed and pushed, falling down in snow or twisting ankles on rocks, with one of us even becoming stuck and needing to be dug out! The valley seemed endless and the weather relentless, progress was perilously slow. We were wet, cold through and totally exposed and our gear barely sufficient for such conditions!
"Eventually we began to descend and with it the hail and snow became rain and the wind lessened to allow us look up, what we saw was a long valley and 6 wet cold hikers! Kebna had broken us but not beaten us!"
Axis would like to thank the following for their support, sponsorship and pledges:
Advanced Drains, Camview Security, Clearline, D&D Plumbing & Electrical, Danacom Ltd, Hallowell Electrical, Hydrotech, Leander Services, M&R Ltd, Paul Grindley, Pump Practitioners, PV Electrical, Raysaleccy, Rob Mellish, Roofmaster, SH Plumbing, Synergy and W&K Interiors.