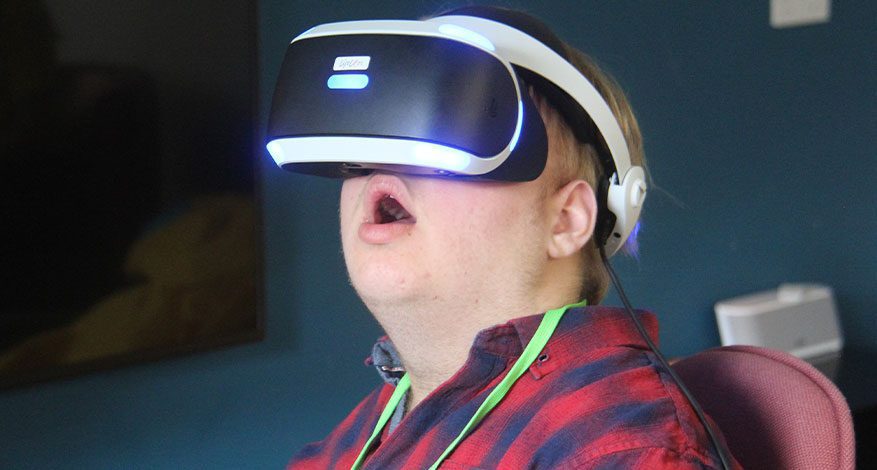 Disability
 Lifelites
Donation to Lifelites provides assistive technology for children with life-limiting illnesses
The Axis Foundation's donation of £5,000 to Lifelites will buy assistive and inclusive for technologies to help children with life-limiting illnesses who attend Demelza Hospice Care for Children, the Axis Foundation's charity partner.
"Lifelites is incredibly grateful for the support of the Axis Foundation. The Covid-19 pandemic has really highlighted life-limited and disabled children using hospice services as some of the most vulnerable and isolated in our society.
"With this donation from the Axis Foundation, Lifelites will be able to provide life-changing technology so children at Demelza  are able to communicate, play, engage with the world around them and control something for themselves" – CEO Simone Enefer-Doy
Case Study – JJ's Story
Eyegaze is just one example of Lifelites' assistive and inclusive technologies. Here's a first-hand report of how it helped one little boy.
"Before JJ was diagnosed with ALD, he was an able young boy, attending a mainstream school. Once diagnosed he slowly lost the ability to walk and talk. The Eyegaze works really well for JJ as a form of play and interaction. He enjoys using all the apps within the Eyegaze, allowing him to create art, and make different patterns on the screen, just by moving his eyes. It is a great way to socially interact with him.
"JJ enjoys making drum beats on the Eyegaze. This is fantastic as he is able to do it on his own, encouraging his independence, when normally he needs assistance with everything. JJ used to love playing the drums before he became unwell." – Charlotte, JJ's care assistant
Our donation to Lifelites will help them procure, install and maintain assistive technology like Eyegaze at Demelza, helping life-limited children as well as their siblings, parents and other family members.
More about Lifelites
Lifelites consults, pilots, procures, installs and supports and maintains bespoke packages of assistive technologies for every children's hospice service in the British Isles.
They train care staff in its use and application on an on-going basis to ensure the equipment is in constant use for the children for whom every second counts. Lifelites has 60 projects across the British Isles.
Using the power of assistive and inclusive technology Lifelites aims to give every life-limited and disabled child using hospice services the opportunity to play, to communicate effectively, to take part in creative activities and to choose and control things for themselves.
Assistive technology enables life-limited children to communicate and interact with their well siblings as other children, to engage meaningfully with parents and carers and to remain engaged with their world for as long as possible.
There's more about Lifelites here