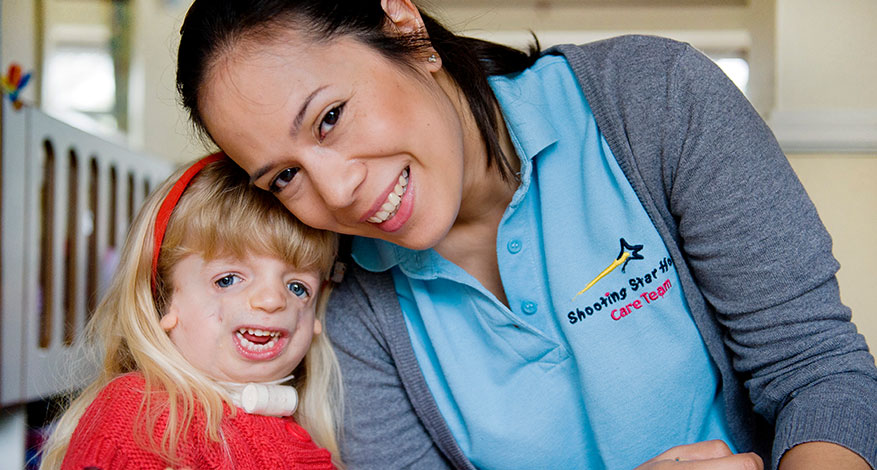 Care
Shooting Star Chase
Home visits to families caring for a life-limited child
Shooting Star Chase's 'Hospice at Home' scheme brings care to children approaching the end of their life in their own homes. The sick children are in familiar surroundings, with their family and their own home comforts. The service brings the same medical, nursing and therapeutic care as the hospices offer. The scheme gives families the chance to relax a little and do chores around the house or even go out, knowing that their child is in the best care.
To support this vital service, the Axis Foundation donated a total of £2,508 (£1,140 in 2013, £1,368 in 2014) which funded over 20 home visits to families caring for a life-limited child.
 "We now have one of the largest Hospice at Home teams in the country. We recorded an average of 250 home visits to families caring for a life-limited child per month. Yet, this is only made possible through the wonderful support from organisations like the Axis Foundation. Thank you." –  Brian Gallagher, Shooting Star Chase

"Care is constantly changing and we need to be flexible and adaptable to meet the needs of the families we support. The Hospice at Home team plays a vital role allowing parents to be Mum and Dad, not just care givers. We'll continue to develop the service so that the children and families we support can have the care they so desperately need in the location of their choice. We are very grateful for the donation from The Axis Foundation" – Elaine Conisbee, Interim Director of Care
What the families say
"When things become too much, and you really can't see a way out of the dark hole you are in, the hospice proves that someone else really does care."
"The Hospice at Home service is amazing. I feel like I've been on a mini-holiday, recharging my batteries and putting me in very good spirits."
More About Shooting Star Chase
Shooting Star Children's Hospice and CHASE Hospice for Children merged together to form Shooting Star Chase and to care for over 600 families living all across western London, Surrey and West Sussex who have a child or teenager not expected to reach their nineteenth birthday.