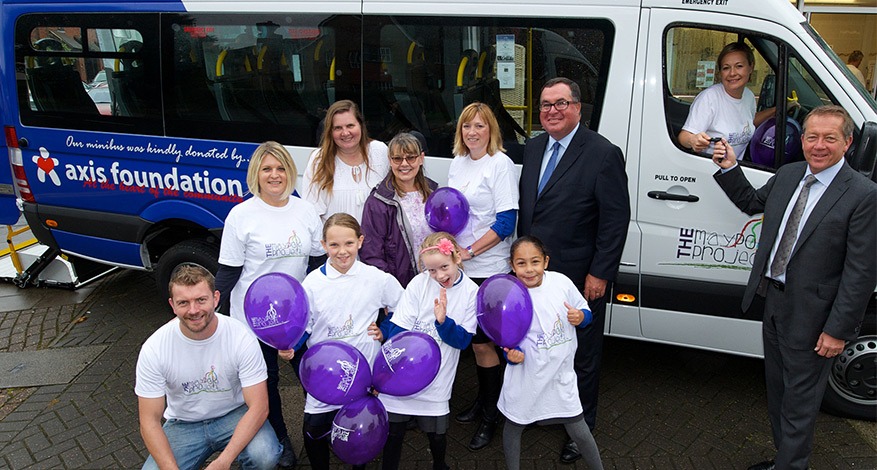 Disability
The Maypole Project
Support for parents of children with life-threatening illnesses
The long and happy relationship between The Maypole Project and the Axis Foundation dates back to 2016. Then the Foundation donated a minibus to this Bromley-based charity supporting the families of children with life-threatening illnesses.
Christened Mayble, the minibus transports over 500 children a year to different events and activities. Mayble also carries parents who lack transport to support groups, events and activities.
"Everyone at The Maypole Project was absolutely amazed and delighted to hear that we were successful in our bid to gain a minibus. It will make a huge impact on the services we can provide to children with life-threatening illnesses and their families – where transport is frequently a major block to access. We will also be able to develop activities and outings that we have, until this point, put on hold! A winning asset all round – thank you Axis!" – Sally Flatteau Taylor, Founder and CEO of Maypole

"I think it's brilliant. So many of us struggle just with the day-to-day and to get to a place is difficult. It will be great to get on the minibus and support the child there rather than have the child in the back of a small car, trying to take their seat belt off" – Maypole parent Ros Luff

"We would like to say a massive THANK YOU to the team at Axis for donating our wonderful minibus, Mayble. The Maypole Project organises lots of wonderful outings in their minibus which enable my child with special needs to be alongside their siblings … we think it's absolutely amazing. Thank you to the team at Axis for donating Mayble, we would be lost without The Maypole Project's support" Maypole parent
2017: Funding toys and equipment
The Axis Foundation made a further donation (£9,000, 2017) which helped purchase sensory toys and a wheelchair lift.
Sally Flatteau Taylor said: "Those who are chronically ill get great joy out of playing with sensory toys. The wheelchair lift gives direct and easy access to the family support room and the toilet which has been incredibly helpful for the children and their families. It has helped us support so many more children. It gives the children better access inside and outside of the building. The support from the Axis Foundation is amazing  is phenomenal for our charity. We really do appreciate it. It's been really good to have the Axis Foundation's support and belief in the work that we do."
2018: Building a Sensory Barn for Maypole
In 2018 Axis Apprentices created a Sensory Barn in Maypole's garden. This enabled all Maypole children to play safely in a stimulating and interactive room. It had long been on the wish list at Maypole and Axis was happy to help out. The full story of the Sensory Barn with pictures and video is here!
2019/ 2020: More support for Maypole
In 2019, the Axis Foundation made a further donation of £1,500 to help Maypole with their drumming workshops, which due to COVID-19 became online activities in 2020. A further donation of £5,000 in 2020 purchased more soft toys for the sensory cabin (built by Axis) and supported taking families on outings.
Maypole families said:
"Thanks so much again for accommodating us, it was such a lovely space for the kids. We had great fun and a great break."

"We came to the horse-grooming/walking activity in Tonbridge and my child thoroughly enjoyed it. The peaceful setting, the one-to-one careful attention he received all helped to make it so memorable and enjoyable for him."

"Thank you so much for the outing – we had great fun this morning."
2021: Bespoke play boxes
The Axis Foundation funded 40 play boxes tailored to an individual disabled child's needs with a donation of £1500 (2021). The Maypole Project recruited a play therapist to work face to face with the children (some of this online) during the Pandemic.
2022: Sensory play equipment
The Axis Foundation donated £6,866 towards sensory equipment, children's t-shirts, and team sweatshirts. The sensory equipment includes floor mats, wall toys, fibre optic sparkle rugs, liquid floor tiles and light up toys.
"We are so truly appreciative of this generous award from the Axis Foundation to The Maypole Project – and of course all of the support – both financial and practical through the apprentices work in our buildings – you and your team have given us over the years that it's hard to find the words" – Sally Flatteau Taylor, Founder and CEO of Maypole
Total donations to Maypole
Our donations to Maypole Project, supporting families of children with life-threatening illnesses, came to £66,000 in 2022.
Here is what Sally Flatteau Taylor said to us in 2021:
We can't thank you enough for the wonderful donations you have provided us across the years. They are all in constant use:

Minibus – used in lockdown to make visits to families and in full use every day during the summer holidays when we had had our fullest programme of outings and excitement yet  including visits to the beach, riding, sailing, bowling, climbing and even to a shopping centre

Stairlift for back office – well in use: as the pandemic lifted we found families were desperately in need of new spaces, new activities, new toys and sensations for the children so we turned the back office into a soft and sensory play space initially used by one family alone (cleaned between sessions by one of our team) and now more families can meet there.

Garden – in full use, as it was when your team wonderfully transformed it!

Sensory Cabin – we have added much sensory equipment in there to make it a play therapy centre for children, and a quiet and calming space for adults

Play Therapy and Play Boxes: The children LOVE THEM and they are a definite and permanent feature of our work.
There's more about Maypole here