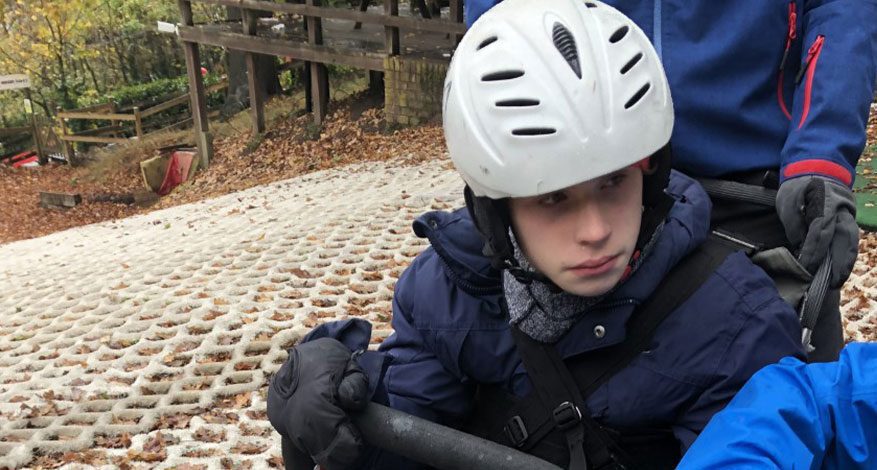 Disability
TAG
Two donations support young people with disability.
The Axis Foundation has made two donations to TAG Youth Club to support their work empowering and optimising the potential of young people with disability.
Our donation of £4789 helped TAG Youth Club purchase a Mountain Man Sit Ski, a transfer sling and a vacuum cushion for postural support for wheelchair users. Fully-qualified adapted skiing and snowboarding instructors from Disability Snowsports UK deliver snowsports lessons for TAG.
'Thank you so much to everyone at Axis and to those involved in the Axis Foundation for the kind gift. This has enabled us to purchase the bi ski and postural supports which means that no one will be excluded from taking part in this exciting sport. Skiing does more than just provide the benefits of being more active: it also supports people with their mental health and social skills and increases sensory stimulation"  – Giles Hobart, Lead Youth Worker, TAG

"My son doesn't excel at sports and has struggled taking part in physical activities due to his disabilities. He loves the sensory feeling of speed and the wind on his face, so giving him the opportunity to sit ski will help change his outlook in life by providing him with a sport that captures his personality" – a TAG parent
Previous donation
Our earlier donation of £5,000 helped purchase a Magic Mirror sensory system for TAG. The Magic Mirror is the only interactive projection system that allows users of different ages and abilities to play and learn together. It supports national curriculum SEN learning responding to the slightest movement, supporting multiple access methods such as gesture, eye gaze, mouse and touch, and projects a variable image catering for wheelchair accessibility.
"A massive thank you to the Axis Foundation. This grant is enabling us to purchase a 3D motion censored sensory system which allows young people with disabilities to play interactive games" – Giles Hobart, Lead Youth Worker
More about Tag
TAG Youth Club in Richmond provides a safe, accessible, well-equipped and stimulating environment where young people (8-25 years) with disability can meet up with friends and enjoy social developmental and enjoyable activities including arts, drama, music and sport.  TAG's Youth workers help the young people with disabilities here develop their self awareness and self esteem as and learn social and life skills too. This vital work takes place in their centre in Richmond and in the wider community locally.
Read more about TAG here