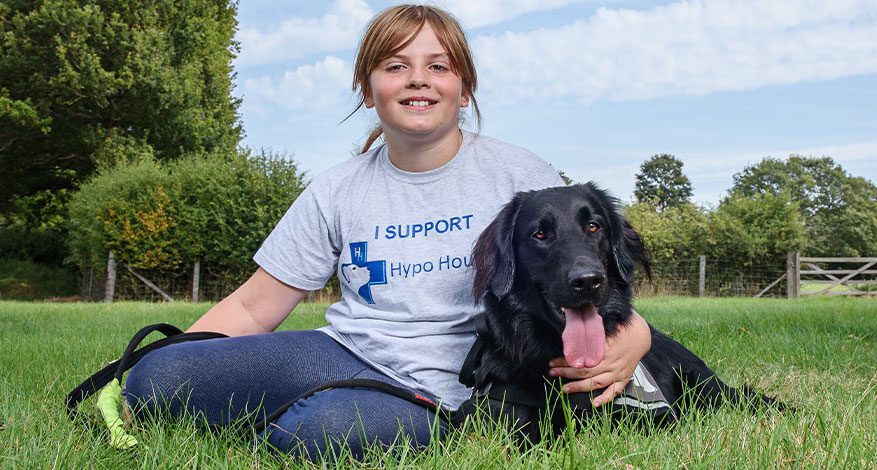 Care
Hypo Hounds
Helping children with Diabetes: we purchase a specialist Diabetic Alert Assistance dog
"One sniff at a time" Hypo Hounds save the lives of children affected with Brittle Type 1 Diabetes every day. And our donation of £2,700 will purchase and feed a puppy and also cover its insurance.
"The wonderful donation by the Axis Foundation will enable us to purchase a puppy for a child, insure it and feed it for the first year of its life. Without this funding we would have had to temporarily disappoint a child that is in desperate clinical need. We are extremely grateful" – Mrs Jane Pearman FRSM, Chief Executive and Founder
CASE STUDY Ruby the Hypo Hound
"My daughter Chloe might not be here now if it wasn't for Hypo Hound Ruby. During a recent sickness bug Ruby began to panic! She is usually such a calm dog, she would not stop alerting. We tried to control Chloe's bloods as best we could at home, but we were not able to keep her fluid intake up. Ruby knew this and Chloe was at serious risk of falling into DKA. We listened to Hypo Hound Ruby, trusted that something wasn't right and sought medical advice. Chloe was taken into hospital and placed onto a drip until her vomiting bug ended.
"Chloe and Ruby are the best of friends and are inseparable. Ruby is just amazing and we love her to bits" – Kathy (Chloe's mum)
More about Hypo Hounds
Type 1 Diabetes effects 29,000 people in the UK. And 20% of those have this rare form, Brittle Type 1 Diabetes, for which there is no known cause and there is no cure. And every day, children with Brittle Type 1 Diabetes are at risk of collapsing, failing into a Diabetic coma and potentially dying in their sleep.
Because Hypo Hounds are trained to alert to parents/owners of the subtle changes in a child's blood sugars they can help to prevent potentially life-threatening hypoglycaemic attacks, allowing parents to treat the child and mitigate the risk of hospital admissions.
Early detection of these changes in children with Brittle Type 1 Diabetes also means that the child's long-term health is improved. Early detection reduces risk of renal failure, loss of sight and amputation.
Hypo Hounds' amazing dogs are beating all the current technology by a precious 15 minutes, providing comfort, peace of mind and relief to parents and families.
More here!
There is more about Kent-based charity Hypo Hounds here.