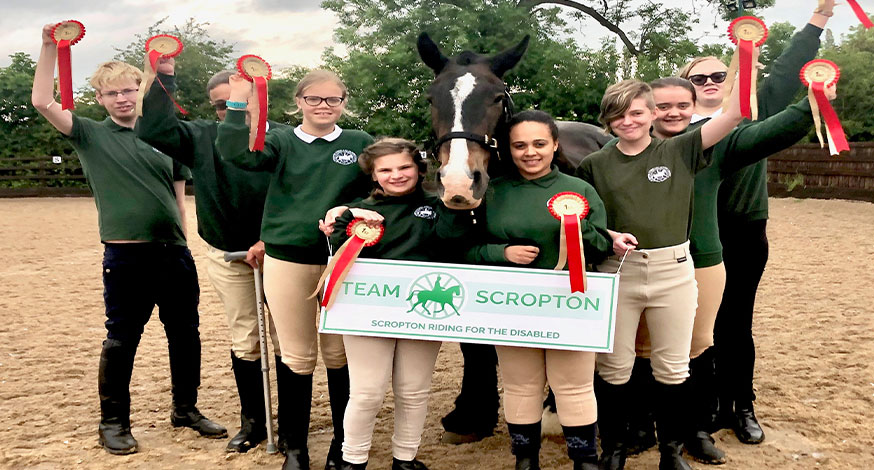 Disability
Scropton Riding for the Disabled
Helping disabled people enjoy the benefits of riding
Scropton Riding for the Disabled is dedicated to enriching people's lives through horse riding. Our donation of £5500 will buy a new horse for the centre, to help more disabled people enjoy the benefits of riding. Scropton Riding for the Disabled is the only centre of its kind in the East Midlands.
Scropton Riding for the Disabled has changed my life – Matthew Dalley, rider at Scropton
Horse riding is an activity that vastly improves health and mental wellbeing. It helps break down barriers for disabled individuals whilst being a fun and therapeutic experience. Phoebe Burns, a rider, said she feels safe at Scropton. "It's my favourite place to be. I feel unjudged, included, happy and I can spend time with my friends, both human and equine."
Horses have a great impact on the lives of disabled adults and children, bringing joy to the faces of all the centre's visitors. Matthew Dalley is another rider at the centre. He said: "Scropton Riding for the Disabled has changed my life, making me the person I am today. Riding has helped me develop in so many ways and now I am both a para rider and volunteer for RDA. I am so lucky to have such fantastic support from the centre."
Horses are Scropton's most valuable resource. One horse provides 10,000 sessions over 10 years. A new horse will provide more riding opportunities for more disabled children and adults.
Scroton Trustee Glynis Dalley commented: "The activities we provide here at Scropton make a very real difference to the lives of people who take part. Whether our riders come for therapy or to develop riding as a sport, the benefits spread way beyond their time in the saddle. For many it can be absolutely life changing. Our fantastic horses are key to what we do, and we are very excited that the Axis Foundation is going to help us expand our team, allowing us to help even more local disabled adults and children."
To find out more, visit www.scropton.com