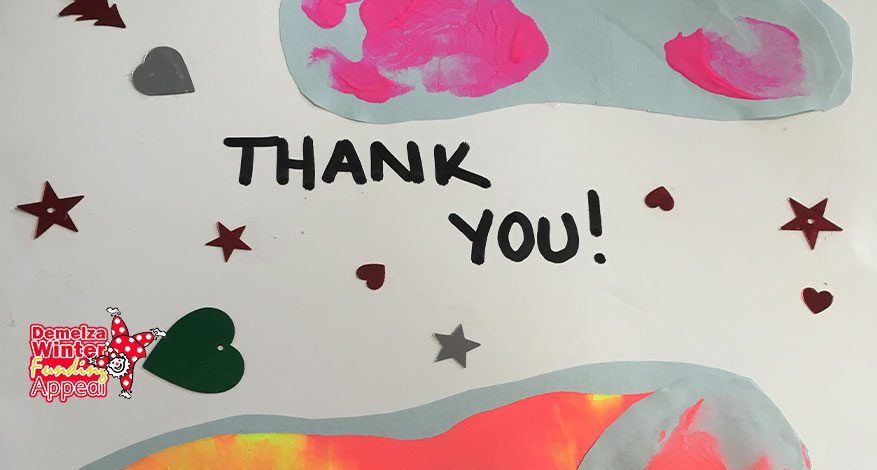 Demelza
Foundation's Winter Appeal for Demelza raises £75,000
The Axis Foundation's Winter Appeal for Demelza raised £75,000 for our friend and charity partner Demelza Hospice Care for Children.
Axis people, our suppliers and subcontractors raised £44,139.46. The Axis Foundation donated an additional £30,860.54. The Axis Foundation was delighted to present a cheque for £75,000 to Demelza in January 2021.
Thank you from Demelza
"Christmas was made all the more magical this year at Demelza by the incredible news that our good friends at Axis had made an incredibly vital donation of £75,000 to support children with serious or terminal conditions.
"This of course wouldn't have been possible without all you truly wonderful people working directly at Axis, and of course to all the subcontractors and suppliers who went that extra mile to get involved too. We couldn't do what we do without the support of people like yourselves. Every single penny that was raised really does make such an incredible difference to those under our care.
"To put this amount into perspective, £75,000 is the equivalent of over 1,531 hours of expert, daytime care for a child or young person with a serious or terminal condition at one of our hospices or the cost of funding two specialist nurses for an entire year at Demelza.
"This pandemic has changed everything, but thanks to people like yourselves keeping our doors open, we can continue to be there for families when they need us.
"To each and every one of you who have taken part in this incredible Axis Foundation Winter Appeal for Demelza campaign, from the bottom of our hearts, thank you for being part of our Demelza Family" – Lila Dowie, Head of Corporate Partnerships and Trusts at Demelza
There's more about the Axis Foundation and Demelza here.
A very big thank you from us all at Axis and the Axis Foundation to…
Alandale Plant & Scaffolding Limited, Ardleigh Improvements Ltd, Bellamy Surveying Consultancy Services, BJL Electrical, Butler Young Associates, Camview Security Ltd, Compliant Scaffold Solutions, CV Library, DMD Contracts Ltd, DMG Office Supplies, Embassy Site Services UK Ltd, Estec Engineering, Faithorn Farrell Timms, Furness Partnership, Holdgate Electrical, Howells, ICD London Solutions, Integral Environmental Solutions Ltd, Intex Facades, Lindfield Electrical Services, London Fire Solutions, M&M Moran, M&R, Mark Building Maintenance Ltd, Mastacab SE Ltd, MC Builders, Miranda Double Glazing Ltd, New Millennium Scaffolding, New Tech Roofing Ltd, Paramount Scaffolding, Parish Print Consultants Ltd, PEP Ltd, PGM Maintenance Ltd, Pro-Thor, Rich Demolition Ltd, ROCC Housing Technology Solutions, Rose Construction Essex Ltd, Russell Trew Ltd, SEI Contractor Ltd, Stakot, Sureclose Group, Teco Interiors, Travis Perkins, TW Drainage, VH Electrical, Vinyl Creations Limited, Warrens Roofing