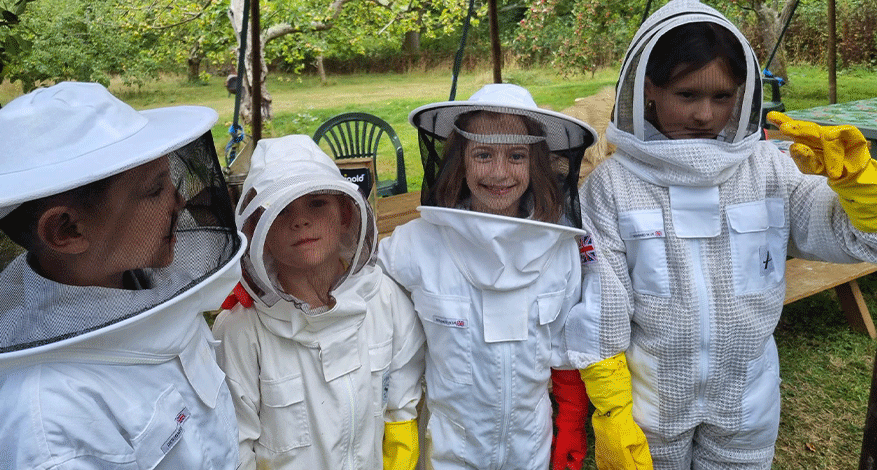 Community
Hands of Hope
Equipping children to learn hands-on about the the natural environment
Through a number of schemes and activities including biodiversity and food growing programmes, Hands of Hope tackles food poverty, rural isolation and loneliness in Rother, Hastings and West Kent.
The charity told the Axis Foundation: "Many children who engage in our activities arrive on site ill-equipped. We are seeking funding to purchase 20 sets of children's waterproofs as well as 10 children's bee suits."
And so, our Trustees were delighted to donate £1,000 to purchase both waterproofs and bee suits.
"As many schools prepare for a new addition to the national curriculum with the launch of Natural History GCSE in 2025, Hands of Hope are already leading the way in climate and sustainability education with a wide range of activities that offer children and young people hands-on, practical learning about the natural world around them so they can have a greater connection with the natural environment and in turn, play their part in making sure future generations can enjoy a cleaner, safer, greener world.
"The donation from the Axis Foundation is fundamental to supporting these activities and ensuring that the children are equipped for an enjoyable, safe, and educational experience" –  Mandy Doran, Trustee
More about Hands of Hope
Supporting local communities throughout Rother, Hastings and West Kent, Hands of Hope creates positive social connections within diverse groups whilst tackling mental health, isolation, and food-related issues. Since 2020 the number of people engaged in activities at Hope Farm Community Garden has increased with over 300 adults and children benefiting from onsite activities during 2022 as well as 1000s engaged via their Get Growing project regionally. Hands of Hope are restoring and developing a neglected walled kitchen garden and 22 acres of AONB land, creating "Hope Farm Community Garden", a Soil Association Accredited community garden containing 2 large market gardens, a small heritage orchard with Apiary, a Gill Woodland, 7 ponds and 2 large wildflower meadows. In June 2022 the charity was awarded The Queen's Award for Voluntary Service.
Hands of Hope delivers the following practical projects: Helping Hands Lunch Clubs; Men in Sheds; traditional bricklaying training; Bee in Company biodiversity programme; Growing Buddies community gardening; Living History including  Rural Crafts, environmental heritage, conservation skills and market gardening; and Get Growing delivering fresh, in-season produce to local food banks.
There's more about their work here