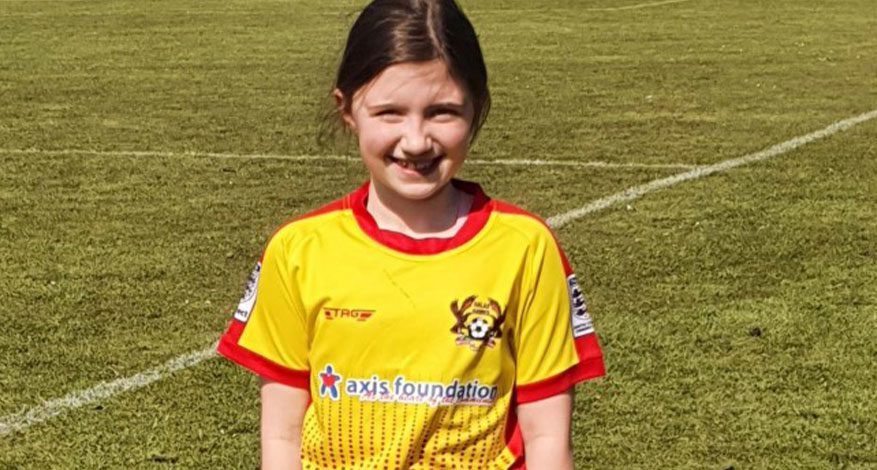 Donations
Halas Hawks
Proudly supporting Halas Hawks' Lionesses, under 10s girls' team
Halas Hawks' Lionesses, the under 10s girls' team at Halas Hawks Junior Football Club, needed new kit.
So the Axis Foundation is proud to support them with a donation of £600 to get the Under 10s fully kitted out for the new season. 
As one local mum says: "This team is close to my heart as it's my daughter's football team. This is a fantastic team which has made all the difference to her and her team mates. She was not the most confident of children and this has really brought her out of herself."  
"Having such an amazing investment from our new sponsor has not only meant new kit for the Under 10s but also that we can buy equipment and pay pitch fees and player registrations. It also means that we will be able to continue long into the future and carry on with our ever growing team. Thank you so much from myself, the manager, the coaching team and mostly importantly every girl who will wear and play in the new kit that you have provided for them" –  Jonathan Kane, Team Manager
Axis and the Midlands 
The Axis Foundation has supported many small, local and impactful causes in the Midlands. We have connected to these causes through our local people at Axis Europe plc's busy, well-established and successful offices in Oldbury. Here we work for some of the area's largest housing providers to keep local homes safe and comfortable for residents.  
More about Halas Hawks 
Halas Hawks Junior Football Club was established in 1980, when boys from various scout groups in  Halesowen got together to promote and develop youth football locally. Since then the club has won many accolades including runner up in Birmingham County's Grass Roots Club of the Year. The club is rooted in – and supported by – its local community in Halesowen. The Lionesses were formed in 2019 as a new Under 10s girls' football team. More here 
Top Tip! Birmingham City's Connie Scofield played for Halas Hawks before joining Blues Ladies Development at the age of nine.