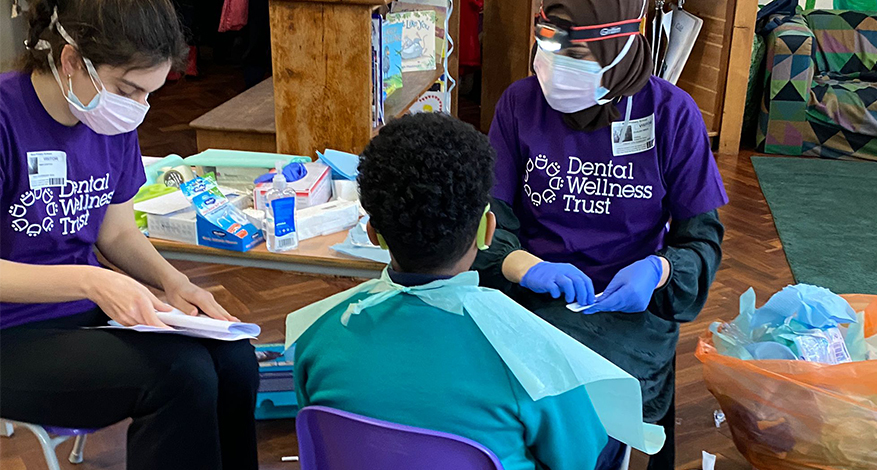 Donations
Dental Wellness Trust
Our donation helps Save Kids Teeth
The Axis Foundation has donated £8,000 to Dental Wellness Trust (DWT) to support their free LiveSmart tooth brushing and education programmes teaching children good oral health.
"We are most grateful for the support of Axis for our LiveSmart toothbrushing programmes delivered to 20,000 children in England. With this grant we are able to reach more children to help Save Kids Teeth" – Linda Greenwall, Founder
DWT delivers the LiveSmart programme mainly in schools in areas of higher social deprivation in London. Our grant will enable them to reach more schools and include the refugee community too.
The lasting impact of DWT's Live Smart programme will be reduced gum disease and fewer hospital admissions for young people as well as a generation of children who understand the importance of healthy gums. Educating today's children about the benefit of good oral hygiene will benefit the children of tomorrow.
Facts and figures
Tooth decay is the most common childhood infectious disease in the UK today. Annually, some 48,000 children, are admitted to hospital in the UK for teeth extraction under general anaesthetic. 60,000 school days are lost each year through tooth decay; some 1m parents have never taken their children to the dentist.
More about Dental Wellness Trust
DWT's mission is to improve the general health and wellbeing of young children– especially those most in need – through dental wellness. They believe good oral health is a basic human right. DWT was founded by Dr Linda Greenwall who was awarded the British Empire Medal (BEM) in recognition of her services to the dental profession. Dr Greenall volunteers her time to DWT, is a practising Dentist and lectures and writes extensively on the topic .
More about their work here