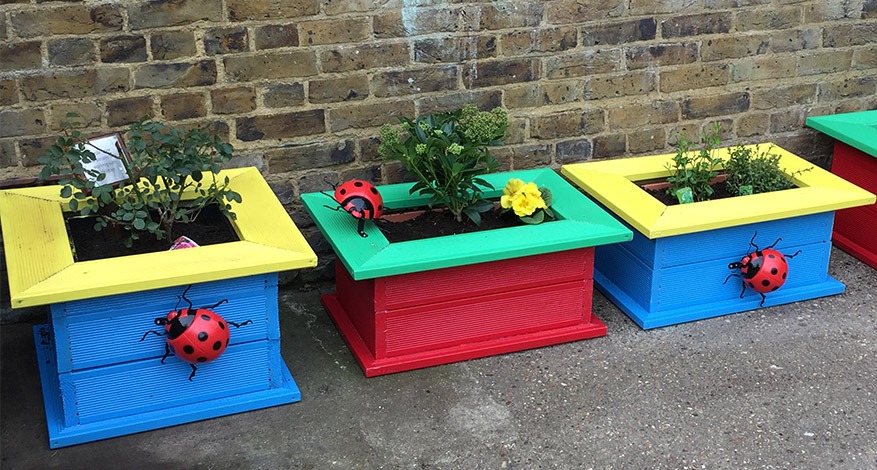 Donations
Carmel Caterpillars Pre-School
Helping children learn through play
Carmel Caterpillars Pre-school is a committee-run service in Sittingbourne that has been running for over 44 years. It has given parents in the community a safe place for their children to learn and play.
Their small garden was in dire need of some TLC. And so, Lorrae Mannering, whose son attends the pre-school, approached the Foundation for help. And we were delighted to support Lorrae's application.
We donated £650 to fund garden equipment and craft materials. Specifically the donation purchased fencing, a new roof for the playhouse, a pirate ship, a new drying rack, paints, easel, craft materials, toys, paint brushes, flower pots and plants. The pre-school used these to revitalise the garden to create a more exciting space for children.
"The donation from the Axis Foundation has been amazing and is really benefitting the children and will continue to do so for years to come. We'd all like to say a very big thank you from us and the children and an extra special thank you to Lorrae for helping to organise the funding" – Louise Leppenwell, Carmel Caterpillars
More About Carmel Caterpillars
Carmel Caterpillars believes that 'Children learn through play' and aims to ensure that the children who attend are free to choose from a range of activities that will help them to develop and learn. The pre-school operates within the local church hall and currently runs morning and afternoon sessions, each attended by around 30 children