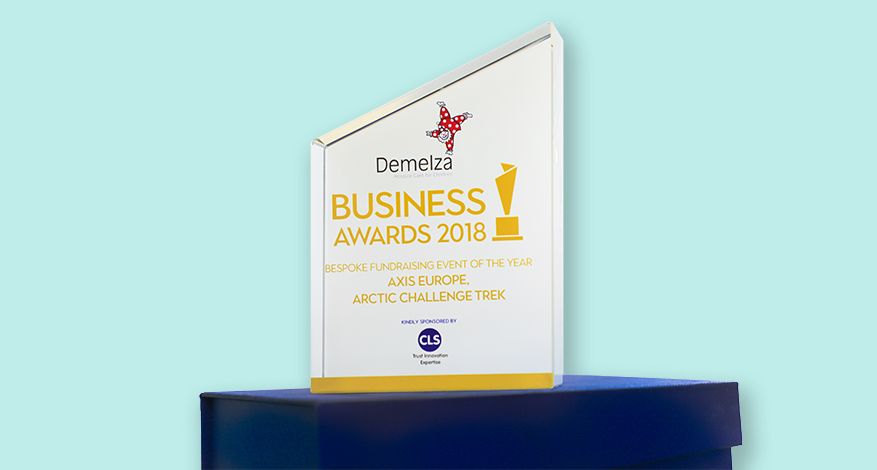 Demelza
Prize for Chilly Challengers!
The Axis Arctic Challenge team wins coveted Demelza Business Prize for their extreme fundraising adventure on behalf of our charity partner
The Axis Arctic Challengers raised funds for Demelza Children's Hospice by braving the cold, heat and dangers of the Arctic. They conquered Mount Kebna – dizzy heights indeed!
The challengers are Christopher Houlihan, Gary Perfect, Philip Twin John Bull and Daniel Blake. Through the hardships of snow, heat, dizzy fits, thirst and hunger, they said that what kept them going was remembering the children for whom Demelza cares.
This was reward in itself for the challengers. But they were delighted to learn that their supreme efforts scooped them Demelza's Bespoke Fundraising Event of the Year Award – We were also nominated for the Silver Outstanding Corporate Supporter Award!
The judges said
Announcing our win, the judges said that our team "took on a tremendous challenge… They hit extreme and unexpected weather, even causing them hallucinations! But they battled through and completed their trek. Very worthy award winners."
We said
Our Arctic Five said: "We are so pleased that Demelza gave us this award. We pushed ourselves to a place we did not know existed. We kept thinking about the kids at Demelza. We had a hard few days. Their entire life is hard. We got a real sense of achievement."
Our Community Investment Coordinator Kellie Durey said: "We cannot thank Demelza enough for our nominations and the big win: it is lovely to see that our support is both appreciated and recognised."
Congratulations to the Axis Arctic Challengers for their extreme fundraising efforts!