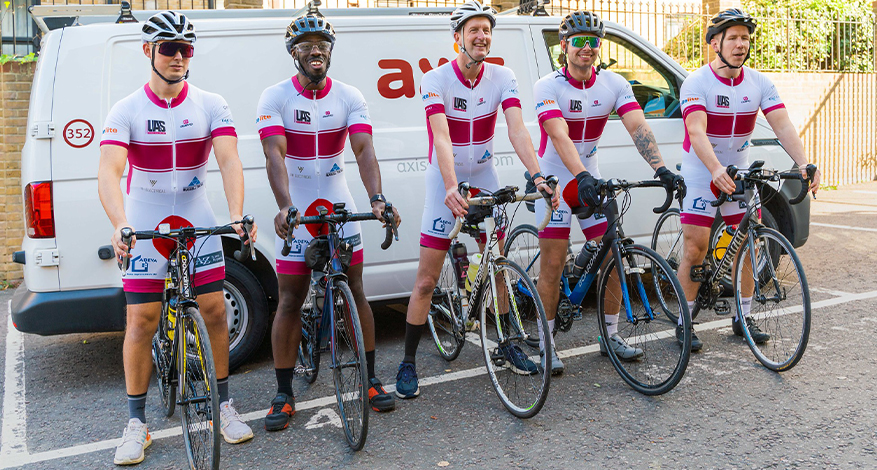 Demelza
Axis team raises £10,600 for Demelza
Our Axis team raised £10,600 for our charity partner Demelza Hospice Care for Children on a sponsored cycle ride.
Axis' Lee Covington, Lee Pearce, Leslie Crabbe, Jake Thomas, and Elliot Pillin cycled from London to Paris in 24 hours to raise funds for our charity partner.
The Axis team, who work in the Projects Division, cycled a total of 180 miles, starting at Trafalgar Square in London, then heading for Newhaven and over to Dieppe, and finishing at the Eiffel Tower.
They smashed their target of £10,000, raising £10,600 all of which will be donated to our charity partner, Demelza via the Axis Foundation.
Our generous subcontractors sponsored the ride and their logos were proudly emblazoned on our cyclists specially-commissioned kit. With special thanks to…
Adeva Home Improvements Ltd
A-Z Stone Repairs Ltd
Britelite Windows Limited
E&C Construction Ltd
Exterior Plas Ltd
Genesis Incorporated Ltd
Granville Noise Insulators Limited
Heron Joinery
Masons Scaffolding
Rich Demolition Limited
Russell Trew
Symphony Windows
Ultimate Access Solutions LTD
VH Electrical (UK) Ltd
… and a big thank you to everyone else who supported our team and helped Demelza too.
You can still support them here 
Here's what the team had to say:
"Since having my young son Ellis, it has made it more apparent what a great job Demelza do… this bike ride was a good way to raise money to help support the charity in the fantastic work they carry out"-  Lee Covington

"The ride was full of emotions what kept me going was Axis team and the help we were giving to Demelza" – Leslie Crabbe

"It was an experience that I will never forget, although it was hard it was worthwhile for the money that was raised to support the Axis Foundation and the fantastic causes" – Lee Pearce

"It was the best and hardest experience of my life so far; it was only possible with the great team of people around me at Axis!" – Jake Thomas

"Our joint effort raised a substantial amount of money, which will hopefully go a long way to help those less fortunate" – Elliott Pillin
There's more about our precious partnership with Demelza here