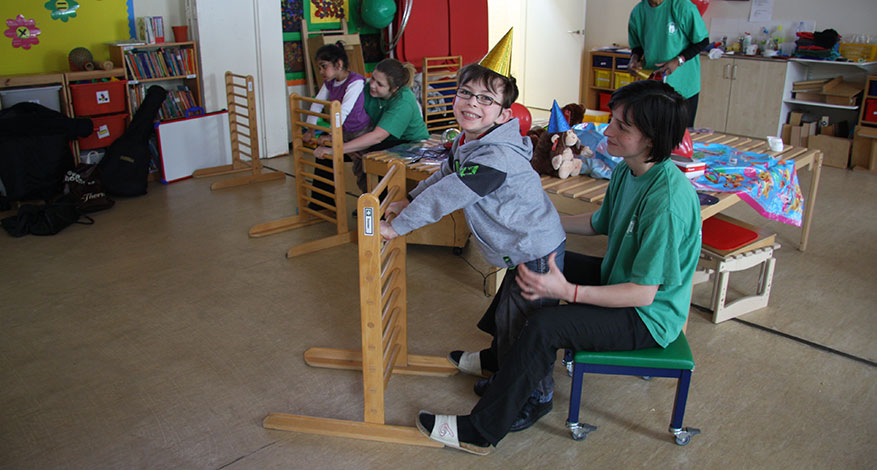 Donations
LCCCP
Helping children with Cerebral Palsy
The London Centre for Children with Cerebral Palsy is the only government-approved centre and school in London for children with cerebral palsy. They support children from birth to 11 years old, as well as their families and professionals who work with them.
Cerebral palsy affects about 1 in 400 children and the lives of an estimated 50,000 people in the London region alone. Typically this condition results in movement disorders, but many sufferers also have significant learning disabilities, limited communication skills and additional disabilities such as epilepsy, hearing and visual impairment.
The Axis Foundation's donation of  £3,500 is supporting the specialist education programme called Conductive Education. Our donation will provide sensory equipment to the Parent and Child groups run at the centre in Muswell Hill, North London. This style of learning helps teach children to develop their capabilities, however limited, so they can be as independent as possible. The children are taught using language built around physical tasks, sensory equipment and songs which reinforce tasks.
 "The educational items purchased by The Axis Foundation are enhancing the curriculum and enabling pupils to maximise the skills they learn in Conductive Education. As a result, pupils have improved their communication skills and ability to learn. Each child has also developed and improved their physical skills and overall cognitive functions, which is reducing their need for care and assistance with everyday activities.

"Items purchased included three multi-sensory story books, switch-adapted toys (Cassy the singing bear), curriculum resources for science (jumbo magnifiers), skeletons, colour-changing pebbles, story cushions, a classroom tidy and a Nintendo Wii. Children are benefiting greatly from their new educational resources because it allows them to understand topics in science, literacy and PHSE (personal, social and health education) lessons.

"We are very grateful for the help from The Axis Foundation" – Anna Salamonowicz, Head of Fundraising 
.