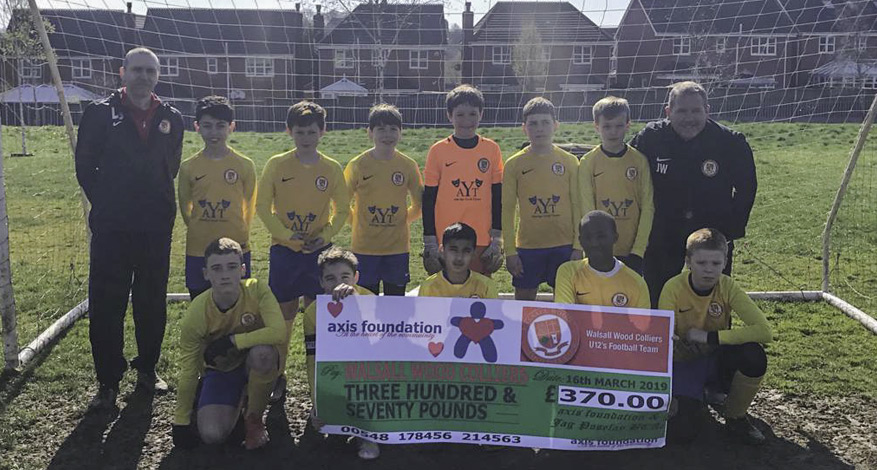 Donations
Walsall Wood Colliers U12s Football Team
League-winning U12s Football Team receives a champion sum
The Axis Foundation's donation of £370 will help towards buying the Walsall Wood Colliers U12s football team a brand new kit in their home colour, red, for next season. Here are the league winners in their away kit of blue and yellow.
I was absolutely delighted to receive the donation from Axis Foundation on behalf of Walsall Wood Colliers. This will help us kit out our team for next season. The coaches put in a lot of hours running a team and every bit of help is welcome as we rely on donations and sponsorship for all our kit and equipment which enable the kids to train and play" – Julian Worrall, Coach and Manager
More about Walsall Wood Colliers
Walsall Wood Colliers Under 12s is one of Walsall Wood FC's many junior youth teams. The Colliers' Manager and Coach is Julian Worrall who has been in this role for six years. Julian volunteers a large amount of his 'spare' time to coach and manage his junior youth team which numbers 18 in all.
"We are very focused on the community at Walsall Wood FC," Julian says. "Our aim in the Junior Youth League is to encourage and develop children to play sport and to be part of a team. We get them off their computers and outside."
As Julian's son used to play for the Colliers too, he is in a good position to know the benefits of playing in a youth squad for young people. He says: "I like seeing how the children develop over the years. Some of them started in our Academy and have the opportunity to go right on through to the Senior team on their footballing journey. They are like an extended family."
There are over 30 teams at Walsall Wood FC which is a registered charity and Chartered FA Club: from the Academy 5-7s to the Under 18s including girls teams and (soon) a team for people with disability. All the coaches/managers are FA licensed and all are volunteers.