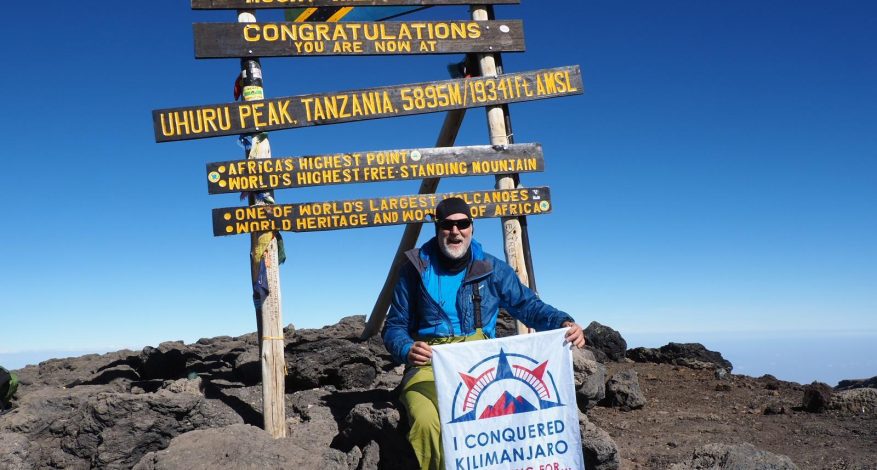 Demelza
Climbing Kilimanjaro for Demelza
Axis' Walter Shave recently climbed Mount Kilimanjaro raising a fantastic £2,500 for Demelza and First Halesworth Scout Group.
The two-week expedition, which was completely self-funded by the team, took just over two weeks to complete and created memories to last a lifetime.
Located in Tanzania, Mount Kilimanjaro is the African continent's highest peak at 5895m (19,340ft) and is the highest free-standing mountain above sea level worldwide.
The team started off by climbing up two smaller peaks nearby to acclimatise to the altitudes. And then it was time for the main event! The climb up Mt Kilimanjaro started after additional training in the rainforest.  Every day Wally and his team climbed a total of 1000m which is the equivalent of Mount Snowdon!
On the summit day, they woke up at 1am to reach the top just in time for sunrise. Wally reports: "We noticed that we were struggling a lot to physically move due to the lack of oxygen at that altitude, our average speed was 1.2km per hour! It was hard to believe that our oxygen levels went down to an astonishing 70%. When you are at sea level, if your oxygen levels go down to 92% you need to be rushed to A&E! The last 250m we walked through glaciers to reach the summit which were incredible: planes were flying below us! Once we reached the summit it was a feeling of such achievement and joy surrounded by amazing views and a beautiful sunrise, we will cherish that moment for our lifetime!"
For his scout group, First Halesworth Scout Group, the money raised will help fund an annual scout trip to Scotland or Switzerland for less fortunate members. For Demelza, the money will help to ensure every child and young person who has a serious or terminal condition receives the care and attention they need to live the most fulfilling life they can.
"Young people are our future! If I can make a small but meaningful contribution to both these fantastic organisations by giving up some of my time and sweat, then it's a win win all round."
Read more about our precious partnership with Demelza here.
And there's more about how we helped First Halesworth Scouts here