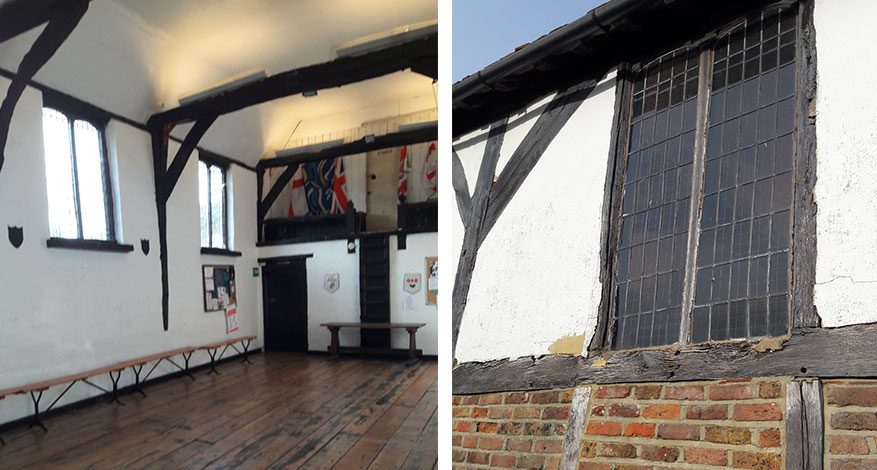 Community
1st Godstone Scout Group
Donation restores building for scout group and for local community
The Axis Foundation's grant of £5,000 helped the 1st Godstone Scout Group to restore their historic base, The Endeavour, at Godstone in East Surrey.
"The award of £5,000 from the Axis Foundation has made it possible to start the restoration work to The Endeavour which is a well-loved building in Godstone. It fronts the village green and has been used for over 80 years by the young people of the community. This award will allow the building to become a true community hub" – Mark Wiles, Group Scout Leader 
More about the Scout Base
Based on a 16th-century oak barn, The Endeavour was hand built by scouts and volunteers in the 1930s. They used recovered materials from a Sussex barn, stone from Waterloo Bridge and 14th-century Purbeck stone from a church.
But, because of its age, The Endeavour had started to deteriorate. It needed urgent repairs to its walls and windows. And so the Axis Foundation was delighted to make a donation to help restore the building for the scout group and for the local community. Local people use it for orchestra practice, exercise classes, birthday parties and fundraising events.
More about the restoration works
Scope of works here included installing style-appropriate new windows with secondary glazing inside toughened glass and rebuilding the brickwork panels below the windows.
More about The 1st Godstone Scout Group
The 1st Godstone Scout Group has been in Godstone since 1908 and provides Scouting to over 50 young people, aged six to14, boys and girls, from all backgrounds and ethnicity. Even during COVID-19 the group remained active in the local community.
More here!
There's more about the 1st Godstone Scout Group here