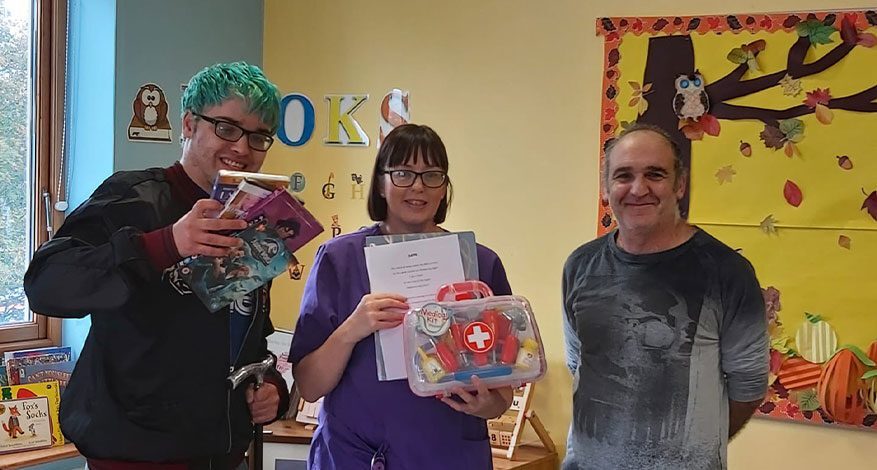 Care
Tyler's Trust
With our donation, Tyler's Trust bought gifts and equipment for seriously-ill children in hospital
And our donation gave this charity gave even greater help than we anticipated during COVID-19.
Their Funding Support Officer, Juliet Stallard, explains how our donation helped them give a little bit extra to local children and their families during the pandemic.
"We would like to say a huge thank you to the Axis Foundation. You kindly donated £1,500 to Tyler's Trust in 2019 towards essential equipment to support seriously-ill children in hospital. The equipment, DVDs and TVs you provided helped children in 2019. And when COVID hit in 2020, many of the children had to lock down in hospital. So the extra provisions you helped us with helped those children in local hospitals who were unable to get out of bed.
"It's been an unprecedented year for us all. We have strived to support our families with sick and ill children through this year in as many ways as was possible.
"In May, we started to deliver our support boxes by post and hand deliver at a social distance to those that we could reach. These were specifically to help with mental stimulation activities (for the children) and hygiene and self-care packs (for all the family) in COVID lockdown. We have also supported new families with our core service support packs, gift boxes and support to local hospitals' children's wards (parental pack for overnight stays). We reached over 30 families."
In 2020 the Axis Foundation made a further award to Tyler's Trust, purchasing I-pads and tablets to help seriously-ill children in hospital.
More about Tyler's Trust
Young Tyler underwent extensive surgery and radio therapy following a diagnosis of a brain tumour. During his long time in care, the thoughtful 12-year-old bought two young fellow patients a comic and a toy.
Their delighted reaction inspired Tyler. So, in 2014, he founded the charity Tyler's Trust giving a Gift Box to patients who have been diagnosed with a brain tumour or are suffering from a life threatening condition.
Each box contains cheering gifts including a teddy, a bandana, a mug, pens, sweets and a voucher.
A local charity, supporting local children, West Sussex-based Tyler's Trust, also supports siblings and family members at a time when hope is often lost or fading. As a twin Tyler knows how hard it can be for brothers and sisters of sick children. And, as well as giving gift boxes to family members, Tyler's Trust also provides additional backup including through an annual family support day.
Tyler has been nominated for several awards in recognition of his courage. In 2018, he received a British Empire Medal (BEM) in the Queen's Birthday Honours List for his work. He says that his greatest achievement is the creation of Tyler's Trust, whose patron is TV and radio presenter Fearne Cotton.
There's more about Tyler's Trust here