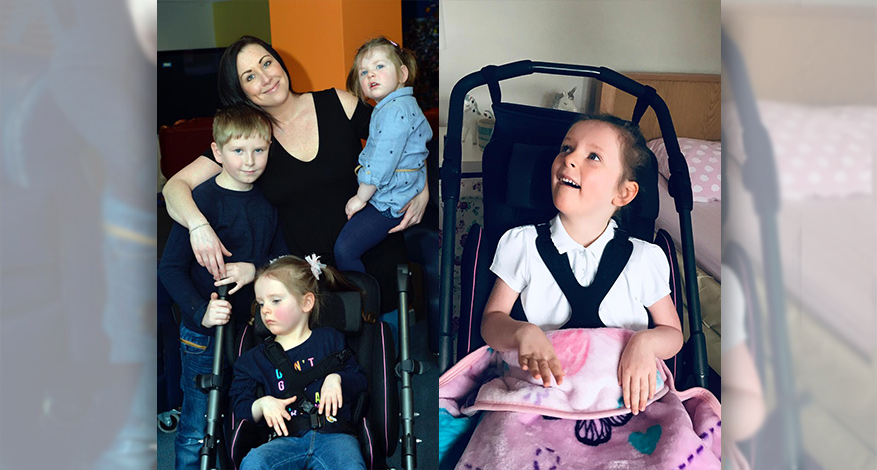 Care
Bathroom for Isabella
Specialist bathroom for disabled child
Aged two months, Isabella was diagnosed with a serious birth defect – neuronal migration disorder – and epilepsy. Her parents, Nicola and Robert were of course devastated by this news. Now aged four, Isabella has very limited mobility and is confined to a wheelchair. She is unable to speak, and her family, including her young siblings, is on constant guard as the risk of seizure is never far away.
To give their daughter more freedom of movement, Nicola and Robert moved to a bungalow and adapted it – widening the doors for example – with the aid of a grant.
Installing a specialist bathroom for Isabella
Nicola and Robert desperately wanted to install a similar specialist bathroom at their home. Sadly, their local authority was only able to offer a shower: the costs of installation were well beyond Nicola and Robert's budget.  At this point, the Axis Foundation stepped in, funding a specialist bath costing £10,000, paying for installation and materials, and turning a dream into a reality.
"We can't believe it! Grateful doesn't even cover it! You guys will never know how much this means to us! THANK YOU!" – Nicola and Robert, Isabella's parents
Respite stays at Demelza Hospice for Sick Children provide comfort and practical support too – for all the family. Here Isabella benefits from using the sensory room while their specialist bathroom is both practical and safe for her and her carers. Demelza is the charity partner to the Axis Foundation and parent company Axis Europe plc.
The Axis Foundation has reached a milestone of 10 years of donations to small, local, impactful causes. #10YrsGiving