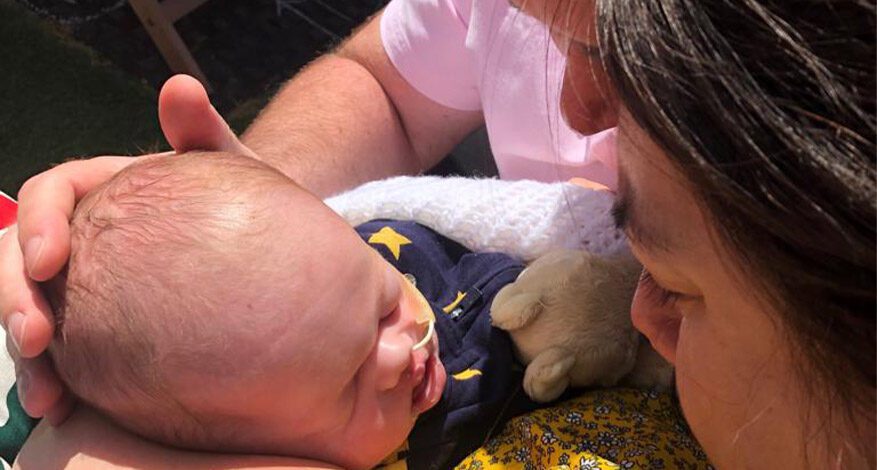 Demelza
Benjamin's story by Liam Hayes
Liam and Amy Hayes' son Benjamin Jeffrey John Hayes was born on Sunday 12th May 2019 and sadly passed away 10 days later.
This is Benjamin's story, told by Liam:
"I know many of you will have heard our news because you've been overwhelmingly supportive and caring, it's been felt by both Amy and myself and is hugely appreciated. But I wanted to tell Benjamin's story because I'm still a proud dad and also because it highlights the importance of charities like Demelza, who Axis supports through our Foundation.
"After a healthy pregnancy we arrived at the hospital excited about the birth and ready to meet our little boy. But our joy turned to concern when the midwifes discovered Benjamin's heart rate had dropped in the final stages of labour and despite the best efforts of the midwifery team, the lack of oxygen being delivered his organs had left him with severe brain damage.
"Benjamin was transferred to the Oliver Fisher Neonatal Unit in Medway where the doctors and nurses gave him the very best care they could in the hopes of reversing some of the damage done to his brain.
"Very sadly this is something that cannot be predicted in babies and there is no reason as to why it happens. It is all out of anyone's control. We now know that 3 in 1000 babies are affected by HIE during labour or at birth.
"Benjamin fought hard but despite his courage and determination his brain condition wasn't going to improve and his little head just wouldn't tell him to breathe.
"After the medical teams had done all that they could, we took Benjamin to Demelza. They helped us make happy memories, even at the toughest time our family has ever been through.
"We had a teddy bears' picnic in the garden with Benjamin's grandparents, aunties and uncles. We held Benjamin whilst we all had tea and cake and listened to music.
"When it was the right time for Benjamin to fall asleep, it was so calm and peaceful. Benjamin didn't suffer any pain during his short life which gives us some comfort.
"During the darkest days the wonderful staff at the Oliver Fisher Neonatal Unit and Demelza provided support and comfort.
I felt it was important to share this because we've had so much support from friends at Axis and the Hospices, Amy and I wanted the chance to say a huge heartfelt thank you to you all."
Thanks to the generosity of our guests and the people of Axis, the Axis Foundation's annual charity ball in 2019 raised a record breaking amount for Demelza and the Oliver Fisher Neonatal Unit. More about the charity ball here
More about Oliver Fisher Neonatal unit here
More about Axis and Demelza here