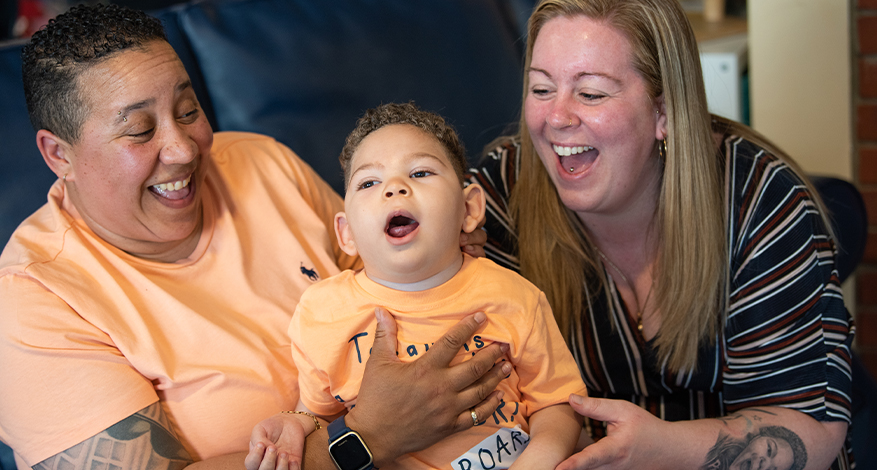 Demelza
Precious Partnership with Demelza
The Axis Foundation is proud of our precious partnership with Demelza Hospice for Sick Children. In our 13-year history, the Foundation has donated £707,000 to Demelza.
Our donation of £6,000 to Demelza was one of our Foundation's very first donations. And when our Foundation's donations reached an impressive total of £2m (July 2022) we were delighted to present Demelza with a cheque for £89,000 which marked our £2m Moment.
Like all good friends… we share some history
Our friendship with Demelza goes back nearly 20 years – all the way to 2004. We had formed a charity partnership even before the Foundation was born.
Our parent company Axis supported Demelza's Bricks and Water appeal creating a Hydrotherapy Centre and two new bedrooms for teenage patients meanwhile refurbishing two existing bedrooms at their Sittingbourne hospice, Kent
Axis also contributed to building a new hospice in Eltham in south east London. Olympic champions and Demelza vice presidents Jayne Torvill and Robin Cousins opened the new premises in 2009. Celebrating the first anniversary of the Eltham hospice in 2010, our people joined Demelza supporters, nurses, children and their families at the 'polka dot tea party'.
Like all good friends, we share some major triumphs
And yes, like all good friends we share great sadness too
When Liam and Amy Hayes' son Benjamin Jeffrey John Hayes was born in 2019 and suffered brain damage during birth, the family took Benjamin to Demelza where, as Liam says:"They helped us make happy memories, even at the toughest time our family has ever been through." You can read Benjamin's story here.
We Axis people love Demelza
Axis people are in their element – snow, ice, water, air, mud – when we are fundraising for our charity partner Demelza. Tough Mudder challenges, cycling to Paris, swimming, boxing, flying, running, climbing in the Arctic, walking hundreds of miles, dancing, baking, eating (even not eating) – there's no stopping us when it comes to raising funds for Demelza and the Axis Foundation. There's more about our challenges here
Our clients, suppliers and subcontractors too have generously given at our golf days and charity ball to support both charities.The Axis Foundation's Winter Appeal 2021 raised £75,000 for Demelza thanks to Axis people, our suppliers and subcontractors. And our 2021 Charity Ball raised a whopping £340,000 for the Axis Foundation's small, local and impactful charities – including Demelza.
Map Matching
Foundation Funding Focus is mainly on the areas where our parent company Axis Europe works to make social housing properties safe and comfortable for residents: in London and the South East and Essex. Demelza offers hospice care in Kent and South East London, as well as helping families across the South East.
Money donated
All the money we raise goes into Demelza's Adopt a Nurse programme, which brings a nurse full-time for one year. As well as visiting the children at the Hospice, the nurses also see their families at home to help with medication and physiotherapy as well as aid the parents in their time of need.
£100 buys nine hours of nursing care for a child with a life-limiting illness at Demelza.