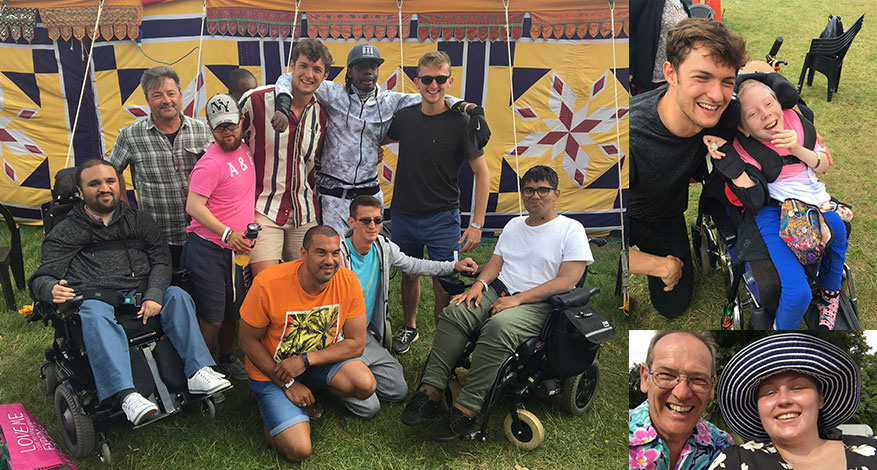 Disability
Festival Spirit
Festival experience for life-limited and disabled people
Festival Spirit is passionate about providing magical festival experiences for life-limited and disabled people. The charity ensures that their guests can attend such festivals and have the time of their lives whilst there. The Axis Foundation donated £5,100 to help the charity continue in their mission.
"The money donated has enabled us to purchase vital equipment to ensure we are able to provide the very best facilities and support to our guests. In particular, we have bought two high-quality hoists for bed/chair transfers and changing and a range of kitchen equipment. Our festival brunches are becoming famous!

"It makes a huge difference to our guests knowing that they can be confident they will have access to all the equipment they need through a festival weekend. We couldn't achieve such success without the support we get from organisations like the Axis Foundation.

"We were delighted to be able to make three festivals accessible in 2017. The donation we received from you was really important to us and the equipment we purchased was greatly appreciated by the attendees" – Steve Clarke, Trustee
More about Festival Spirit
Many music festivals simply cannot offer the full festival experience for life-limited and disabled people as they cannot accommodate the special requirements.
Festival Spirit lays on a specially-adapted marquee (with hard flooring, heating and electricity) which are close to disabled facilities such as showers and toilets, as well as full electric hospital beds, shower chairs/commodes and a curtained-off private sleeping area. There are camp beds for carers too, and 'buddies' who assist the guests and their carers travelling around the site.
"For four days, I was Lucy. I was a young adult. I was a festival-goer. I was part of a group. I was doing something many people do. I was myself. I was not a 'disabled' young adult, or a 'disabled' festival-goer, or a 'disabled' group member, I was simply me" – Lucy, attending WOMAD with Festival Spirit