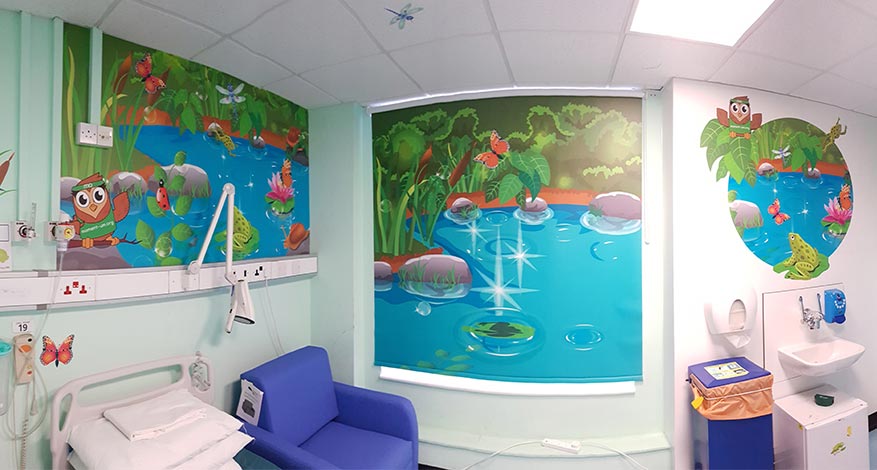 Care
Momentum Children's Charity
Transforming hospital experience for children with cancer and life-limiting illnesses
The Axis Foundation donated £3,500 to help Momentum Children's Charity's transformation of the Frog Isolation Room on the Rupert Bear Paediatric Ward in Croydon University Hospital.
Momentum supports families of children with cancer and life-limiting illnesses living in South West London and Surrey. Children who have cancer and life-limiting illnesses often spend a huge amount of their time in hospital, from their diagnosis and throughout their treatment. Isolation rooms ensure they do not catch any further infections and some children can be in these rooms for up to 10 days at a time.
Bearing this in mind, the new decor at Croydon University Hospital features Momentum's mascot Mo the Owl and other wildlife including frogs, ladybirds and butterflies and plants. This redecoration project has created a bright and happy space providing the young patients with positive distractions and enriching toys to make their time in hospital a little bit easier.
"We wanted to make a difference for the children and to make their memories of staying in hospital positive. Something as simple as improving the environment can make a huge difference. The Axis Foundation and our other supporters have allowed us to make a massive difference in the hospital and for the children" – Tara MacDowel, Head of Fundraising and Communications

"Enhancing the healing environment in hospitals is a large part of Momentum's work. Studies have shown that a good hospital environment can greatly improve a child's recovery time and of course the staff also benefit from a brighter, more welcoming place in which to work. So we are grateful to all of you at the Axis Foundation. With your donation we have been able to transform the Isolation Room at Croydon University Hospital into a wonderful welcoming space for our young cancer patients. … thank you again for your support" – Bianca Effemey, Co-Founder