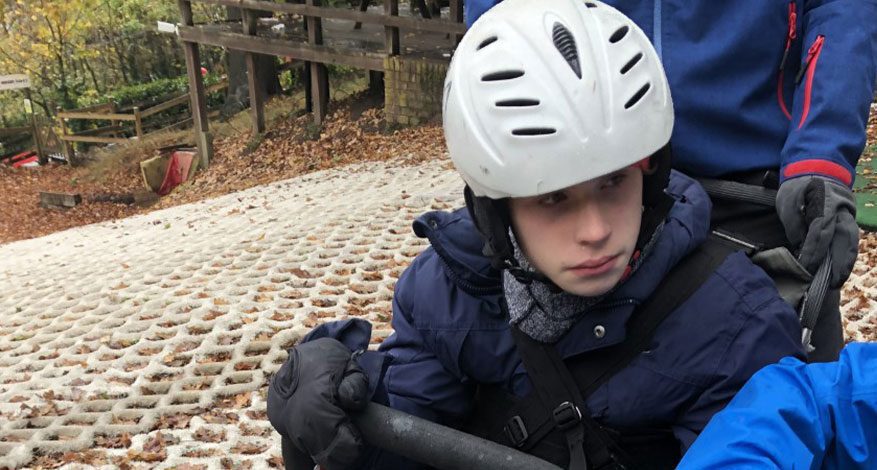 Disability
TAG – 2nd donation
Providing adaptive snowsports for young people with disability
TAG Youth Club in west London aims to empower and optimise the potential of young people with disability. And TAG's Adaptive Snowports programme offers disabled people the thrills and excitement of snowsports.
The Axis Foundation's donation of £4789 will help TAG purchase a Mountain Man Sit Ski, a transfer sling and a vacuum cushion for postural support for wheelchair users.
'Thank you so much to everyone at Axis and to those involved in the Axis Foundation for the kind gift. This has enabled us to purchase the bi ski and postural supports which means that no one will be excluded from taking part in this exciting sport. Skiing does more than just provide the benefits of being more active: it also supports people with their mental health and social skills and increases sensory stimulation"
– Giles Hobart, Lead Youth Worker, TAG
Case study: A TAG parent says
"My son doesn't excel at sports and has struggled taking part in physical activities due to his disabilities. He loves the sensory feeling of speed and the wind on his face, so giving him the opportunity to sit ski will help change his outlook in life by providing him with a sport that captures his personality."
Adaptive snowsports for young people with disability
The 2018 Paralympic Winter Games was officially the most successful in Paralympics GB's history: snowsports athletes brought home an incredible seven medals. Following their inspiration, many more organisations seek to provide adaptive snowsports (skiing and snowboarding) for people with disability.
More about TAG
TAG, based in West London, provides young people with a safe, accessible, well-equipped environment and the opportunity to participate in personal and social development activities including arts, drama, music and sport. Fully-qualified adapted skiing and snowboarding instructors from Disability Snowsports UK deliver the snowsports lessons for TAG. Read more about TAG here.
The Axis Foundation previously donated £5,000 to TAG to fund an interactive sensory system at the Youth Club – more here.