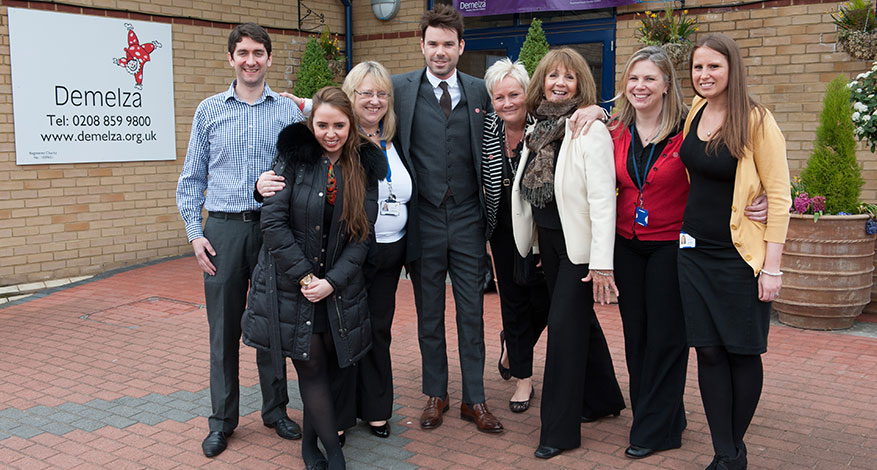 Demelza
Demelza 2013
Demezla patron DJ Dave Berry accepts Foundation Cheque on behalf of Demelza. 
This years total funds raised for Demelza totalled  £48,000.Capital FM presenter and Demelza Ambassador, Dave Berry, received the latest donation from the Axis Foundation at Demelza's offices in Sittingbourne.
Thanking everyone who contributed to the £48,000 he said:
"This is a phenomenal amount to have raised and will provide invaluable support to the children and families Demelza looks after.
"Axis clearly has some extremely committed and generous people working within it, and it is to them I would like to express my deepest thanks."
As he is local to south east London and the Eltham hospice, Berry has seen much of the work conducted by the Demelza locally. He and fellow patrons including Daniel Radcliffe, Jayne Torville and Gary Lineker are similarly committed to supporting the work of our charity partner.
Berry is also involved in other local charities also supported by the Axis Foundation including the Charlton Athletic Trust where he supports the new youth services programme.
This donation alike all our donations will go towards the fantastic 'Adopt a Nurse' project. The nurses work with both the children and families to provide the care and support at a time they need it the most. Without the help of these specialist nurses, children and families may not get the care and support they need.
The charity provides excellent family support services, short breaks so families can have respite, essential therapies and end of life care across East Sussex, Kent and South East London.