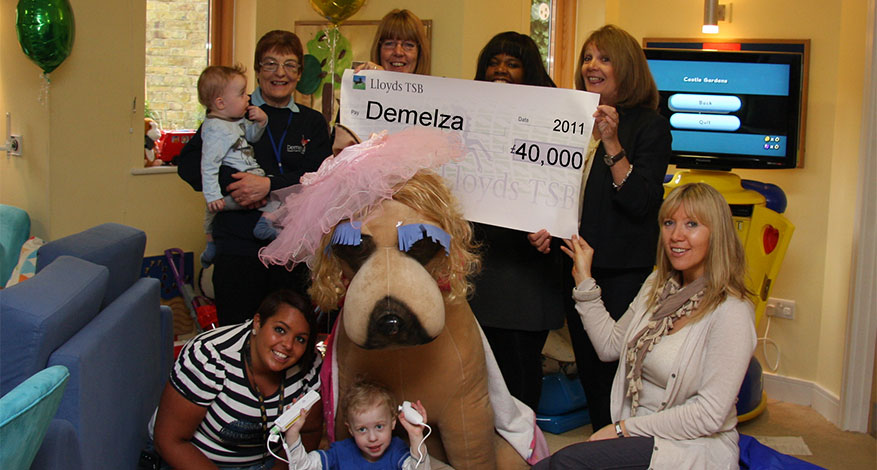 Demelza
Demelza 2011
Thanks to the great efforts of Axis people and the generosity of donors, we were able to gift a grand total of £52,000 to Demelza's Adopt a Nurse programme.
The adopt a nurse initiative is crucial in enabling Demelza's nurses to continue carrying out the fantastic work they do at the children's hospice.
Demelza provides hospice care for over 700 children with life-limiting illnesses and their families across Kent, East Sussex and South East London.
Foundation Trustee, Sandie Ryan presented a cheque to staff at Demelza's Kent hospice in April (2011) for £40,000, following donations of £12,000 being received via Just Giving. The money will pay for a Demelza nurse and care assistant for a year.
Sandie said "The care these nurses provide is second to none and it's clear to see how much the families need this extra pair of hands."
Axis and the Axis Foundation has supported Demelza's adopt a Nurse campaign for seven years, funding the salary for a specialist pediatric nurse who delivers much-needed care to the children and respite for parents.
At the presentation Demelza's, Natalie Tegg said "Demelza are hugely grateful to the Axis Foundation for all their amazing support. To raise this amount of money is fantastic. Thank you to all the Axis staff for their outstanding efforts. Their help will allow us to pay for a nurse to help children and families in the South East."
The majority of the money was raised through fundraising by Axis people that included dressing up, running in the London 10K, sponsored walk along the Great Wall of China, a golf day and a Summer Ball.