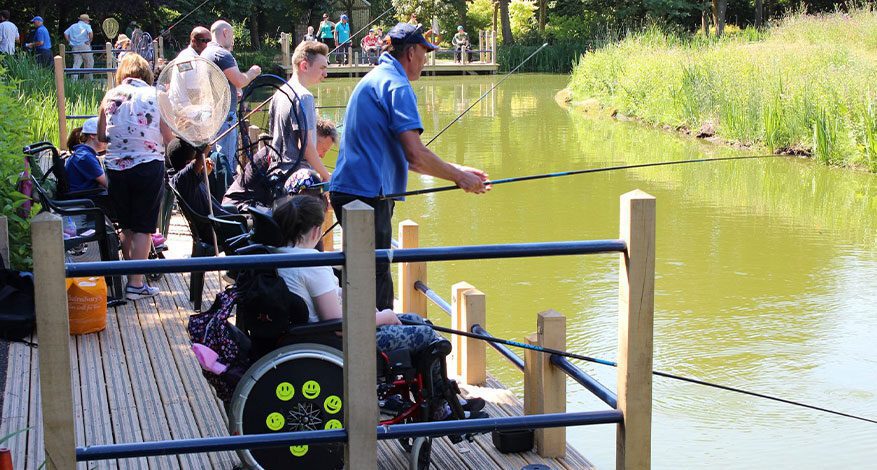 Disability
BDAA – 2nd donation
Providing access for disabled people to joys of fishing
Disabled people are excluded from fishing by poor design, not their disability. Many mobility and visually-impaired people have difficulties even getting near the water's edge. So, our donation of £3,450 to British Disabled Angling Association (BDAA) will help fund the creation and installation of an approved, bespoke, accessible group fishing platform in the Midlands.
"The Trustees and I would like to offer a huge thank you for the generosity of the Axis Foundation. Your grant has allowed us to provide accessible fishing platforms ensuring disabled people will be safe when fishing. The accessible fishing platforms with safety features help individuals and groups like our successful Disabilities Schools or Heroes Veterans.

"Your grant has ensured that the public can see first-hand the commitment we place on design and accessibility allowing more disabled children to participate alongside non-disabled people helping bridge social divides. We could not do this without the generosity of the Axis Foundation" –  Terry Moseley, Founder, BDAA
More about accessible platforms for disabled people
An accessible fishing platform with stop-rails, hand rails and anti-slip strips allows disabled people safe access to the water and to the joys of fishing. Adapted fishing platforms have proved a huge hit with disabled anglers and fisheries. The group platforms, such as the one our donation will help fund, particularly benefit angling clubs, SEN schools or residential centres. In addition, an adapted platform has a long-lasting legacy and will benefit thousands of disabled people during its lifetime.
Benefits of angling and the BDAA
Angling helps improve the health and wellbeing of many disabled people. The sport encourages access to outdoor activities and, most importantly, offers the chance to socialise with others in the local community. As such, angling can change the lives of disabled people. And the British Disabled Angling Association (BDAA) offers inclusive fishing opportunities to disabled people of all ages and disability. The charity provides adapted equipment, disabled platforms and access, services, information, support and practical advice on all issues encompassing angling.
Due to COVID-19, fishing became an even more popular activity leading to increased requests for BDAA support. So, in 2021, BDAA  is working with fisheries and angling venues to improve their disabled facilities making them more accessible, safer and practical so that more disabled adults and children can get involved and have enjoyable day out with a friend or family. There's more about BDAA here.
The Axis Foundation has previously donated to BDAA's Junior Schools Fishing Project. More here