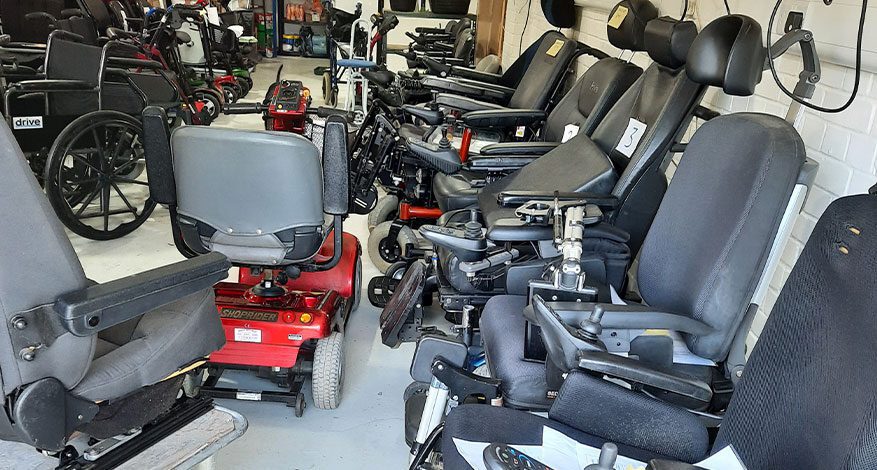 Disability
Freedom Power Chairs
We fund bespoke power wheelchair for cerebral palsy sufferer
'H' is a 65-year-old man who is severely disabled through cerebral palsy. The Axis Foundation's donation of £1,750 to Freedom Power Chairs will help the charity design and adapt a power chair to H's near foetal position posture, with a joystick adapted for use by his foot. The chair will feature the supportive and contoured seating 'H' requires along with adapted footrests and controls.
With his new chair H can enjoy activities independently. The new power chair will also greatly help his carers who have to lift him from his bed to his chair.
"The Trustees of Freedom Powerchairs are most grateful to have received financial support from the Axis Foundation to enable us to provide a much-needed special powerchair for a client "H" with Cerebral Palsy. It now gives him the freedom to travel; to shop, meet friends, take his companion dog for a walk, and to get on buses to visit other charities where he is himself a volunteer" – Martin Osment, Founder and Trustee, Freedom Power Chairs
More about Freedom Power Chairs
Martin Osment, Freedom Power Chairs Founder and Trustee, is an experienced engineer. As a disabled person, his own lived experience showed that 'off the peg' wheelchair solutions were often not adequate, particularly for people with complex mobility issues. So, he used his skills and experience to design a powerchair which met his individual needs. From here he founded Freedom Power Chairs.
At the Sussex-based charity's workshop, Freedom Power Chairs design produce and supply individually-tailored power wheelchairs at affordable prices. In addition, they adapt manual chairs, scooters and other mobility aids, provide a repair and maintenance service and modify existing chairs to meet the needs of individual clients. Their Community Support Mobile Workshop helps the wider community. They also provide a rental service. By using their recovered, refurbished and adapted stock Freedom Power Chairs provide custom built powerchairs at a fraction of the price of a new one. More here