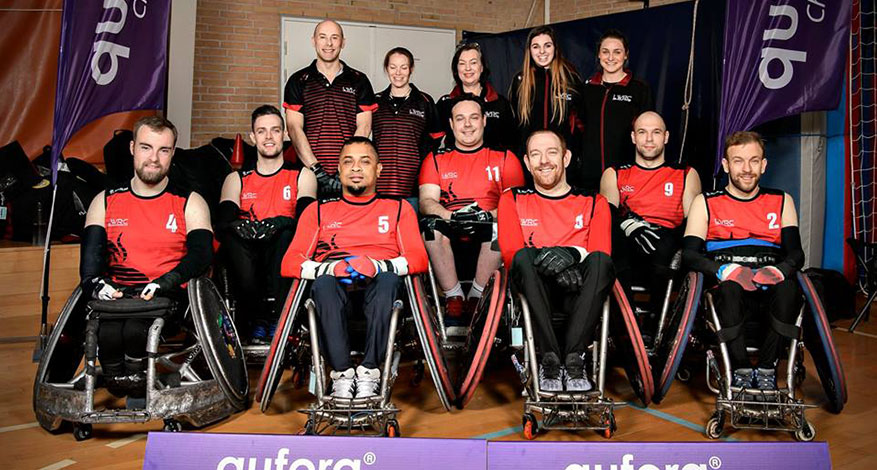 Donations
London Wheelchair Rugby Club
Enabling people with disability to enjoy benefits of Wheelchair Rugby
The London Wheelchair Rugby Club offers many benefits to people with disability as Wheelchair Rugby is a great way to get fit and be part of a team..
Because of the constant high-impact collisions in the game, the specialised wheelchairs often need a wheel replacement, new tyre or tube. The safety equipment also often needs replacing or updating. So, the Axis Foundation's donation of £2,000 will buy wheelchair spares and training equipment.
"Our aim has always been to lift the burden financially from our players who often live day to day on disability benefits. If we can be the one to find the next £1 then they can be left to concentrate on playing the sport they love. Whether it's trying to reach the heights of competing for Great Britain at the 2020 Paralympics or being able to forget about their day to day worries for a few hours at training, this is our aim as a club.

Without your help and very generous donations this would be near impossible for us to achieve. Everyone at the London Wheelchair Rugby Club thanks you for helping us achieve the goals we set ourselves and the club collectively and hope that our relationships continue on for as long as you can continue to support us.

"We are delighted as the grant will help us so much! We are training for the 2020 Paralympics now and really hoping some of our amazing players will be selected again! We are so proud of them and what they have had to overcome. They really are an inspiration" – Steve Palmer, Chairman
More About Wheelchair Rugby
Wheelchair Rugby, with its requirements of speed and agility, is a great way to get fit and be part of a team, especially for those with higher levels of disabilities. Many have very few options to take part in sport. Rehabilitation through sport brings huge benefits, not just physically but psychologically too with increased independence and a social network too. Four LWRC players represented GB in the 2016 Paralympics. We hope to see them represent Team GB in the next Olympics too!
"It's the beginning of an amazing journey for me and I have such a sense of accomplishment and joy" – LWRC member, Oliver Mangion, 21