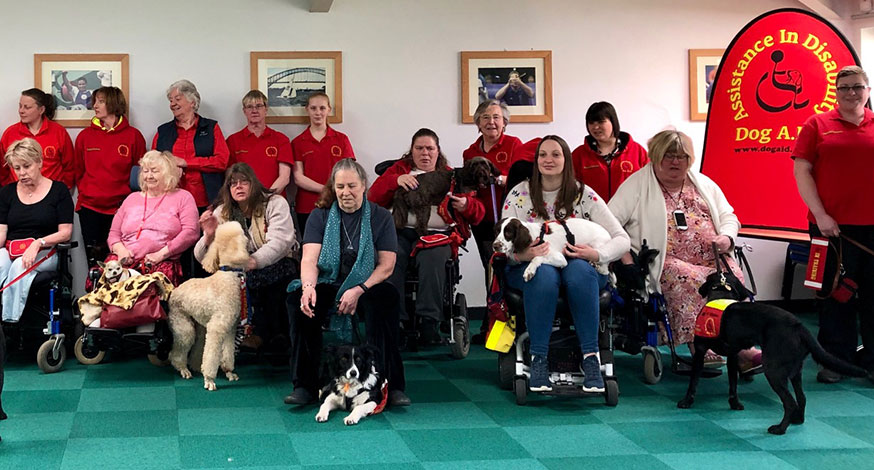 Disability
Dog Assistance In Disability (Dog A.I.D)
Funding a pet training programme to support people with disability
Dog A.I.D supports people with physical disabilities by offering pet training programmes to their dogs. Our donation of £6,000 will help six pups gain Assistance Dog status through the pet training programme. Assistance Dog status is an international standard recognised by Assistance Dogs International (ADI). Each qualified dog can provide physical and emotional support to their owners.
This can be truly life changing. A huge thank you from all of us – Mike McDonald, Chief Executive
Assistance dogs drastically improve the quality of life for people with disabilities. They help with day-to-day tasks that most take for granted and can perform potentially life-saving interventions. Having a companion also increases confidence, resilience and independence,  vital for people with disabilities. Support from Dog A.I.D, and a lifelong furry friend even helps some return to meaningful employment.
Chief Executive, Mike McDonald, commented: "As a charity Dog A.I.D. receives no Government financial support. So we rely on the generosity of our local communities and Grant Making Trusts. We are absolutely delighted that the Axis Foundation have chosen to support our work with a fantastic £6,000 donation, as part of their 10th Anniversary celebrations. This grant will enable people throughout the UK to benefit from training their own pet dog and this can be truly life changing. A huge thank you from all of us."
Dog A.I.D have over 100 qualified instructors based throughout the UK. There is a high demand for potential clients, so to find out more visit https://dogaid.org.uk/.