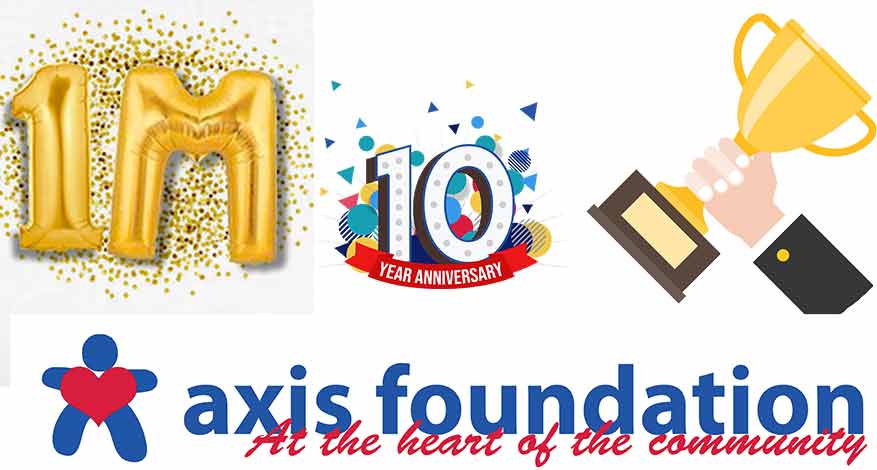 News
Journey to our 10th birthday
In 2019, we celebrate our Axis Foundation's 10th birthday. During this Decade of Donations we have given over £1.4 million to 200 small, impactful and local causes.
People power
The people of Axis set the very first Foundation stone with their generosity of spirit.
Axis CEO and Foundation Trustee John Hayes set up the Foundation in 2009 to "formalise and capture all the elements of giving that already existed across the company, particularly giving back in the communities where we were working".
Axis people – demonstrating never-ending enthusiasm and inventiveness in their fundraising activities – have made the Foundation such a great success in this Decade of Donations that a new Fundraising Hero Award was launched in 2019 to acknowledge their support.
Award-winning Foundation
This universal support throughout the company was one of the reasons the Foundation won the Corporate Foundation Category in the highly prestigious Business Charity Awards 2018. Presenting the award, sponsored by Third Sector, the Judges commented on "good employee involvement" and the "passion" behind the Foundation.
One million landmark
In the same year the Foundation hit the £1m donated mark with a donation to For Jimmy in south east London.
Sticking to original values
The Foundation has stuck to its original remit of helping mainly small, local and impactful causes – in giving a hand up, rather than a hand out. All of the money – that raised by Axis people, plus through a corporate donation and funds raised by generous guests at the Axis Foundation Charity Balls and Golf Days – goes straight to these causes: not a penny is wasted.
10th Birthday Year
Our generous Axis people and our clients and supporters made our 10th birthday year a real record breaker with top amounts raised at our Alan Curbishley Charity Golf Day and our annual Axis Foundation Charity Ball.
The Future
With the support of our people, our clients and with the partnership and friendship of our charities, the Axis Foundation looks forward to another Decade of Donations!