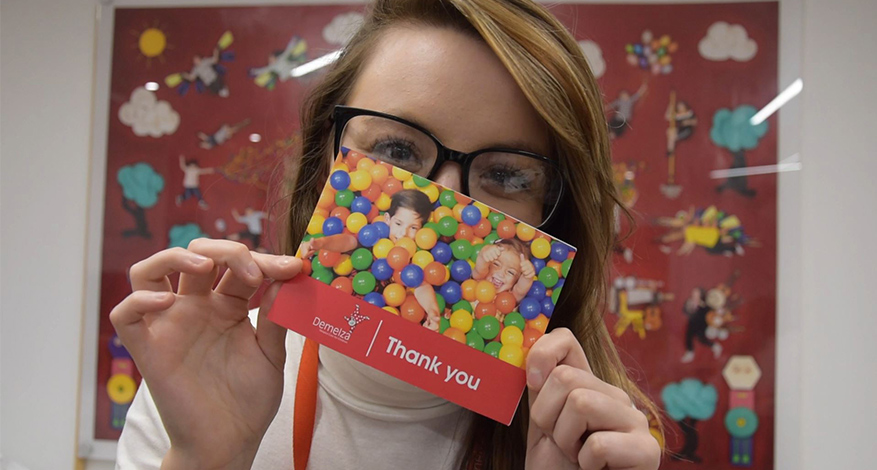 News
Thank You Videos for our 10th Birthday
Demelza has been close to the hearts of everyone at Axis since the very beginning of the foundation. In fact, our involvement with Demelza extends even further back than the birth of the Axis Foundation; we've continuously supported them for 15 years.
As the foundation celebrates a decade of donations, Demelza looks back on what our support has helped them to achieve:
"You've helped our staff support families through the saddest time that I think most people can imagine, through the death of their child. You've also helped us create some of the happiest moments that those children and those families have had, helping them to experience adventures, new challenges… and create memories that live on forever."
Ryan Campbell CBE Demelza Chief Executive
Watch the video to see what Demelza had to say about Axis' support over the years:
Words from our other Charity Friends
Causes that we have supported over the years had plenty to say for our 10th Birthday. Here are some snippets from the special videos they sent us.
Elevating Success
"The Major benefits of the funding from the Axis Foundation was to support the local residents, especially young people in celebrating their achievements to the community."
Watch the full video here
Freddie Farmer Foundation
"The Axis Foundation have really helped us to achieve funding for this machine which has been hugely beneficial for the children…"
Watch the full video here
Arts For All
"We were able to take 12 adults with learning disabilities on a holiday to Devon with the donation, an event that they look forward to every year…"
Watch the full video here
Accuro
"Your donation has helped us continue to provide transport that supports people with disabilities maintain their mobility and social connnection."
Watch the full video here
For Jimmy
"With the funding from Axis we were able to start our young citizens program, to go into school to work with young people, encouraging them to be the change makers and to make our communities safer…"
Watch the full video here
Holly Lodge
"With your donation we were able to bring 10 classes from deprived areas and we also worked with 2 classes of children with disabilities allowing children to get outside and discover nature…"
Watch the full video here
Ragged School Museum
"We are very grateful to the Axis Foundation because they gave us money towards our family learning holidays… We couldn't do without this help."
Watch the full video here
 Imber Metz
A massive thank you to the Axis Foundation…Without their support, we wouldn't be able to do half of what we actually do."
Watch the video here