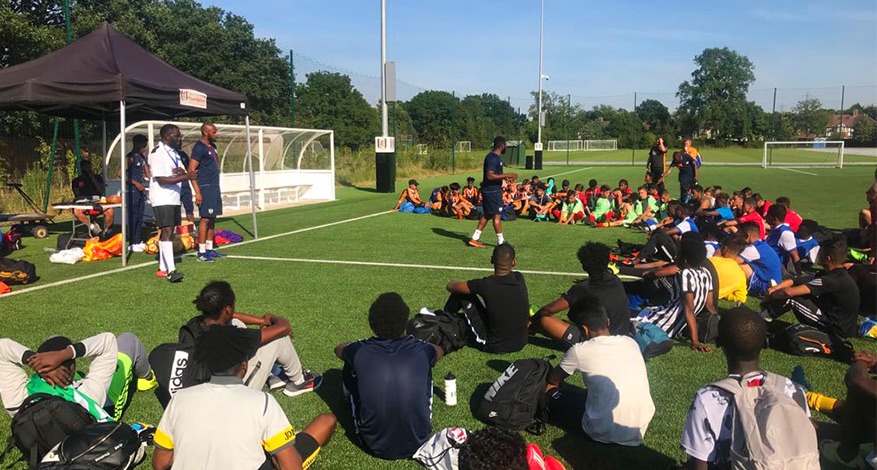 Donations
Imber Metz
We believe passionately in the importance of the work of Imber Metz, steering young people away from crime and particularly working to reduce knife crime in London.
Imber Metz is the Met Police's youth engagement project. The charity is one of our longstanding partners whom we are proud to support. The Axis Foundation has donated £35,000 to Imber Metz over seven years.
Our donations help Imber Metz deliver anti-crime lectures and football activities in high-crime and hard-to-reach-areas. The vital projects will benefit around 200 young people.
"Without doubt the most valuable achievement is this: several young people approached Imber Metz to tell of a serious public order situation which could have resulted in knife crime against a named individual. As a result, and due to the close liaison we have with the police, this situation was avoided and a young person's life saved. Without the Axis Foundation none of the above would have been possible. On behalf of the young people and the project a massive Thank You" – DCI Clive Driscoll, Founder
COVID-19 update
"During Lockdown, we have helped young people who attended our sessions in Lambeth. We have supported them via Zoom and will focus on new projects, including community days and new locations, once conditions allow.
"The future is bright although the last months have been difficult for all. Your assistance gives the communities Imber Metz works with – now and in the future – a chance to start again. As always a massive Thank You" – DCI Clive Driscoll
More about Imber Metz
Imber Metz youth engagement project works to improve the lives of young people in hard-to-reach communities by:
promoting work with the police and statutory agencies
appointing mentors to convey a strong positive message
delivering a strong anti-knife crime agenda
engaging young people in football activities
focusing on boroughs identified by the Metropolitan Police as Trident Gang Boroughs
Football focus
Our donations have supported the Imber Metz's youth football project. The project enables Police Officers and young people (who may have lost respect for the Police and the legal system) to spend time together in non-confrontational situations. Together the communities are building bridges and breaking down barriers through sport. In addition, the project helps players build up their social and life skills whilst they receive training in the sport.
The football project used our funds for pitch hire, travel and kit, expanding the project into new areas and involving more socially-excluded youngsters. Imber Metz provides  football for U7, U13 and U18 players and has successfully forged links with many clubs and  community football organisations.
Distinguished mentors
Distinguished mentors supporting Imber Metz youth engagement project include Mr Neville Lawrence OBE, the father of murdered teenager Stephen Lawrence, and leading human rights lawyer Joslyn Coburn.