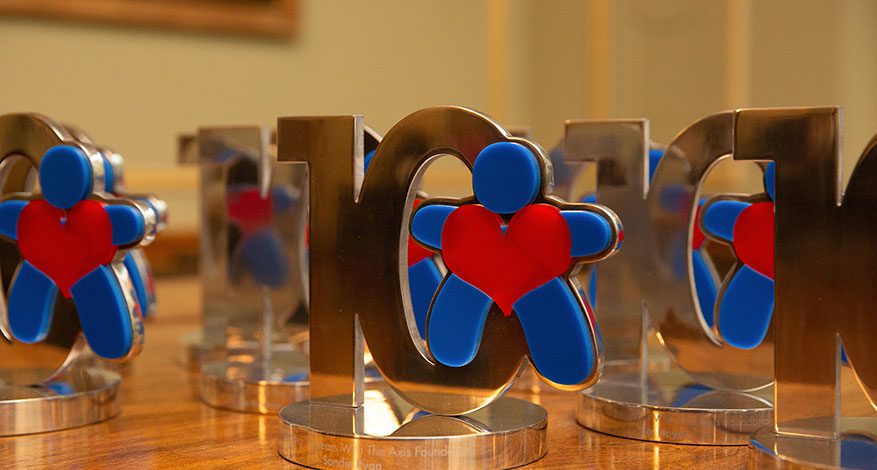 News
10th Birthday celebrations mark a Decade of Donations
This year, 2019, the Axis Foundation is 10 years old.
At the beginning of 2019
We launched our birthday year with Generous January. The Foundation invited Axis people to nominate local causes and individuals who might need a helping hand in the New Year.
Birthday celebrations
To mark our Decade of Donations the Axis Foundation hosted a party at Painter-Stainers Hall in London (recently refurbished by our award-winning Projects Division). Guests included our clients as well as friends from the many small, local and impactful causes the Foundation has supported.
Celebrity Golf Day's a Winner
Our annual Golf Day – named for our, sports pundit and tv personality Patron Alan Curbishley – raised a record amount in our birthday year.
And the close of play
A fitting end to our celebratory year, our 2019 Axis Foundation Charity Ball raised a record-breaking £150,000 for our charities for the night. These were the Oliver Fisher Special Care Baby Trust and our partner Demelza Hospice Care for Children.
The numbers
Since the Foundation was born, it has donated over £1.4m to 200 small, local and impactful causes in the communities where we work. We like to call it our Decade of Donations!
Our work
The Foundation has:
provided care and love as well as vital equipment and improved facilities for those with life-limiting illnesses
funded medical research into children's illnesses
supported anti-knife crime and youth safety initiatives
reached out the hand of friendship to those who are isolated, with practical donations like adapted minibuses and cars
helped the vulnerable meet, socialise and engage in activities as well as receive appropriate care.
given a voice for those hard-to-reach elements of our community who sometimes remain unheard.
Axis people
Funds for the Foundation come from a corporate donation as well as money raised by our charity ball and golf days and by the indefatigable people of Axis.Their work is acknowledged this year with the inaugural Axis Fundraising Heroes Awards.
Our partner
The Foundation's charity partner is Demelza Hospice Care for Children. The hospice provides end of life care to children and babies and crucial support to their families. Axis has partnered Demelza for over 15 years (before the Foundation was born) and helped set up their new hospice facilities in East London. In 2019 Demelza awarded Axis their Gold Outstanding Corporate Supporter award at the Demelza Business Awards 2019.