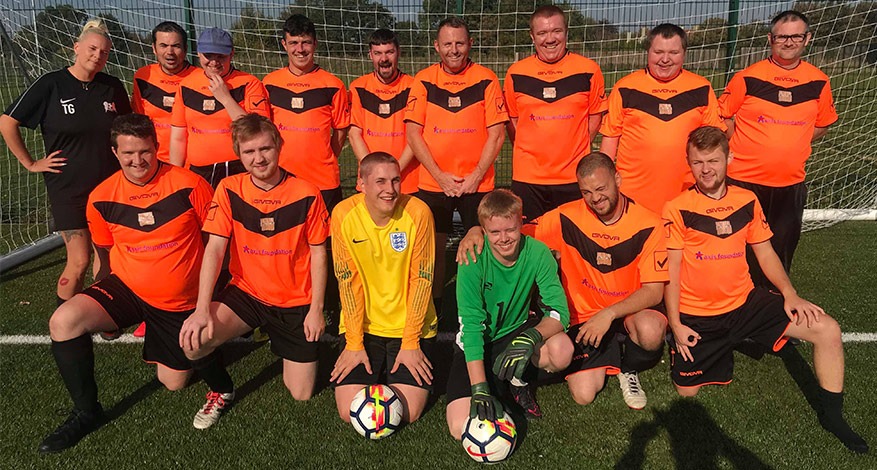 Donations
Swale Your Way Tigers
Mental health football club gets new kit
Swale Your Way is a local support group and their Football Therapy programme encourages those with mental health issues to play sport and improve their quality of life. Indeed, Swale Your Way Tigers Mental Health Football Club has enjoyed tremendous success: they were crowned victors of the FA People's Cup in 2018. We are delighted that our donation of £3,050 will purchase brand new kit.
"Thanks to our funding from Axis Europe, the Tigers are able to go out in style and play good quality football in their vibrant new kit.  As we all know when you are looking great you feel great and thanks to our funding our players can enjoy going to matches feeling a million bucks!! Thank you to our sponsors" – Toni Golden Team Manager/Coach
More About Swale Your Way and The Tigers
Swale Your Way works with individuals as they overcome obstacles and move forward with their life. Swale Your Way might help someone enter education or return to work or find new hobbies, friends or social activities. They also manage psychological wellbeing, solve housing issues and organise finances.
Swale Your Way also runs many different trips and projects to benefit their service users empowering them to make positive change. These include a very successful allotment group and successful trips using their popular minibus.
Swale Your Way Tigers Mental Health Football Club improves the quality of life of people with mental health issues through sport. Kent FA  – impressed by the Tigers' success  both on and off the field – have been working with the mental health football club to develop the first mental health football league in the county.