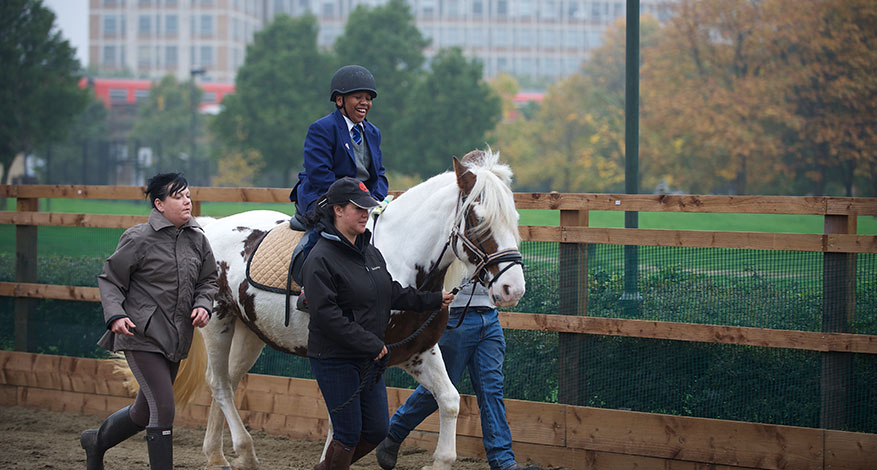 Community
Vauxhall City Farm
Horse riding therapy at urban city farm helps disabled and disadvantaged children
Vauxhall City Farm started out in 1977 with local people working voluntarily to transform derelict land into an oasis of country life in the heart of London. Their Horse Riding Therapy Centre has been helping the Vauxhall community since opening in 2002.
The Axis Foundation has been supporting Vauxhall City Farm for many years. We have donated a total of £25,000  to the charity through five separate donations since our first donation in 2006. In addition, Axis people actively volunteered at the farm as it was close to our then Head Quarters.
 "Vauxhall City Farm Riding Therapy Centre has had a very successful year since receipt of payment of the grant from the Axis Foundation. We aim to continue to provide the current number of lessons to disabled and disadvantaged children and sustain the much-valued work for the benefit of local young people. We cannot thank you enough" –  Riding Centre Manager, Linda Hinds 
More About Vauxhall City Farm
Vauxhall City Farm's horse riding project targets disabled and disadvantaged children in inner-city areas who would not normally have the opportunity to horse ride. In one year the centre provided 1,283 riding lessons to young people and 1,878 riding for the disabled lessons. Their feedback has shown that the horse riding therapy project offers a substantial amount of beneficial factors including increased confidence, relationship building and achieving individual goals, Horse riding and can also act as a form of physiotherapy.