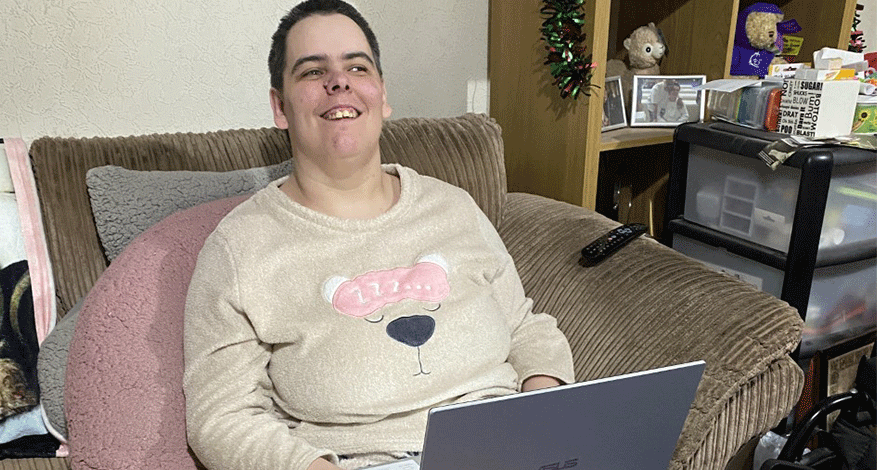 Disability
Axis employee applies to Foundation to help resident with MS
Helping MS sufferer write her book supporting other sufferers and their carers
Elma Gredelj, Axis Resident Liaison Officer, helped Anna, an MS sufferer, by applying to the Axis Foundation. As a result of Elma's application, the Axis Foundation donated £300 and purchased a laptop for Anna so she can complete a book about her experiences of MS to help other sufferers and their carers too.
More about Elma's application
Whilst conducting cyclical works on behalf of our client, Elma met Notting Hill Genesis resident, Anna. Anna wants to write a book to support others who suffer from MS. But as she was unable to access a laptop, Anna was writing it out by hand.
Elma tells the story of their friendship here:
"I met Anna whilst conducting window surveys for the Notting Hill Genesis contract. Once I got speaking with Anna it felt like we knew each other for years. I was very moved by her life story. She shared her positive and negative experiences of being a young lady with MS. She had so many goals that she wanted to accomplish but was very limited due to not having the facilities to do so. One of her main dreams was to write a book to raise awareness for MS. By having limited facilities to do this she has struggled to progress further in this.
"I felt like I couldn't walk away from that property without trying to help this young lady and reward her for the confidence and strength she has shown to open up to me and share her heart-breaking experiences.
"I contacted the Axis Foundation and applied for a laptop for Anna to help her with her dream of writing a book. This was accepted and I felt so happy for her because I knew how much this would mean to her. I delivered the Laptop to Anna, and she was speechless and felt like 'her dreams came true'.
"I want to advise anyone working with residents if you find that you can go that extra mile to help someone then please do apply through the Axis Foundation; the sense of reward it made me feel to help someone achieve their lifetime dream especially for such an important topic to raise awareness and knowing this will have an impact for many individuals, it was well worth it !
I wish Anna all the best: and want her to keep her head held high. She's an inspiration."