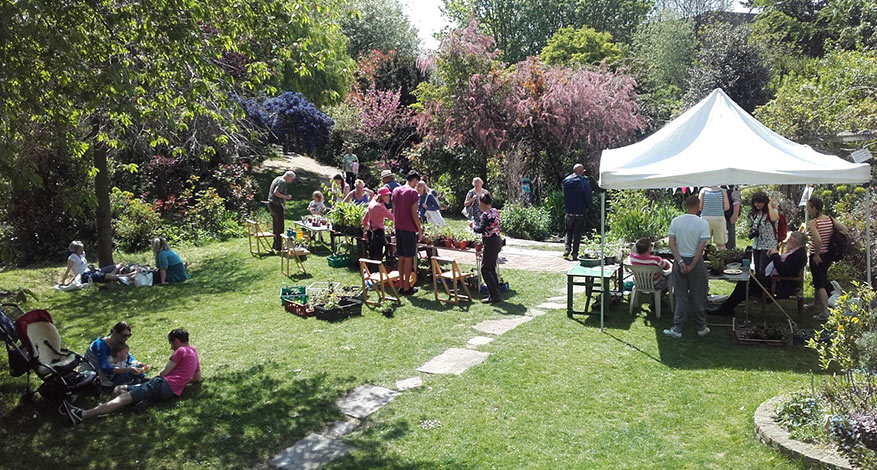 Community
Culpeper Community Garden
Local community gardening project is Eden in Islington
Islington's award-winning Culpeper Community Garden works closely with local organisations who support vulnerable people. Many schools come here to learn about nature. There is a wealth of activities and workshops for adults and thousands of members of the public also visit this haven every year.
The RHS has warmly praised Culpeper, a registered charity, in their London in Bloom competition. "Culpeper is an outstanding example of community gardening in the city… It's social and therapeutic horticultural at its best."
"The money from the Axis Foundation, £2,000, will be used for environmental education and gardening sessions with groups and local schools. I am so happy that the Foundation's grant can further support our projects at Culpeper.

"Culpeper's a wonderful green community centre in the heart of London where people from every background, advantage and disadvantage can relax and work together in a beautiful green space. I call it a 'little garden of Eden'. The garden has been a source of pleasure and inspiration to me for over 30 years" – Margaret Pitt, Trustee
More about Culpeper
Culpeper Community Garden is close to several large housing estates in Islington and is run by locals on organic and sustainable principles. It is one of London's oldest city parks / community gardening in the city projects and land here comprises 46 plots for local residents and groups, communal areas (including a pond, wildlife area, lawn and rose pergola), a community building and a tea hut for members.
Supporting vulnerable people
Culpeper supports the Elfrida Society, the Stuart Low Trust, Room to Heal and Islington Mind. These local organisations help vulnerable people including those with learning difficulties and mental health issues as well as isolated people and asylum seekers. Each organisation has a weekly session at Culpeper and a plot of their own to cultivate.
"This garden is like paradise for us. When I came here, I was very depressed and without hope. It was winter and now for me it's spring," – Garden Volunteer