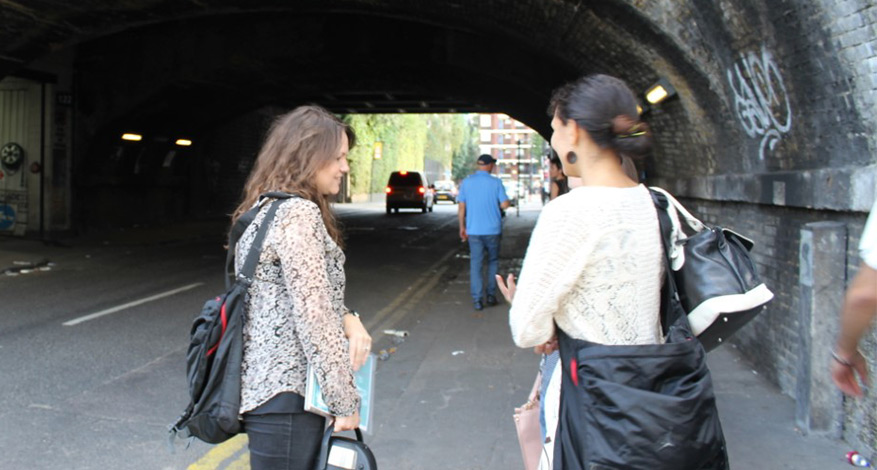 Care
Beyond The Streets
Routes out of prostitution for women
The Axis Foundation's donation of £5,000 supports Beyond the Streets' Door of Hope. This project offers hope, support and routes out of prostitution for women involved in the London Borough of Tower Hamlets in East London.
"Thank you for the generous donation… Your support will enable our Door of Hope team to continue to provide specialist support and genuine routes out for women involved in prostitution on the streets of the East End.

"You are ensuring that we can reach more women to offer consistency and a compassionate response to overcome the barriers they face. Thank you for standing with us, we are stronger with your support to tackle sexual exploitation in our community" – Josephine Knowles, Co-Director for Services
COVID-19 Update from Beyond the Streets
"As we come to the end of the year, I wanted to take the opportunity to thank you and all at the Axis Foundation for your support through this difficult period. More than ever this year I have been grateful for your commitment to stand with us as we faced many unexpected challenges.
Despite this we have seen the remarkable strength and resilience of the women we are working with. Your support has ensured we can continue to be there for them at times when many other services have been unable to operate and when their need is greatest.
"As we look to the next year, we know we have some exciting plans for Door of Hope. We are expanding our staff team which will ensure that we can support more women with the intensive support they need. At a time when many have become more isolated, we know the power of working together. Thank you for working with us."
More About Beyond the Streets
Working directly with women, and offering a safe space to talk with someone who understands, Beyond the Streets charity helps women make a practical plan of achievable steps – a route out of prostitution.  They believe in treating women involved in prostitution fairly, positively and respectfully. They provide a safe space for women to talk – and be heard.
Beyond the Streets also offers Beyond Service, a free and confidential call-back service, and email support as well as groups and online forums, Gathered Voices. They also work with public sector, health and charity practitioners and run awareness-raising workshops and projects. More here
CASE STUDY kindly provided by Beyond the Streets
N's story
N has had a relationship with Door of Hope team for a number of years through our outreach team, who met her dozens of times while she was selling sex on the streets of Whitechapel.
Initially she was reluctant to have anything to do with our outreach volunteers, but over time she began to smile and then accept some of the items we give out to women, eventually giving her number to one of the team. One of our Women's Support Worker's called her and arranged to meet in a café. Contact was sporadic, dependent on whether N had a phone at the time or if she came to our drop-in session. She began attending the drop in fairly regularly, sometimes for advice, other times to take part in  activities and enjoy some respite.
Our team would help her access services she needed, supporting her to apply for accommodation. One time we started a universal credit claim, sadly, like many women we work with – she wasn't able to keep up with the follow up appointments and the claim was closed.
She went to prison on several occasions and was visited by one of our Women's Support Workers there. Prison was a time of rest and reflection – she left with hope for her future and the changes she was going to make.
The first time she was released on her own, she went straight back to drugs. The second time she was released our Women's Support Worker met her at the gate and we restarted her Universal Credit application together on the train back to London. Amazingly, she kept with her drug treatment for several weeks after release – she received a script and was supported by our team as well as a specialist drugs worker. This was a hopeful time for her and our team, she'd never maintained drug treatment in the community before.
Sadly, she has since relapsed. Although we share her disappointment about this – we know that relapse is a normal part of the recovery journey. She has demonstrated that she can do it and we'll continue to support her to access drug and alcohol treatment again, as well as supporting her with the root causes of her addiction.