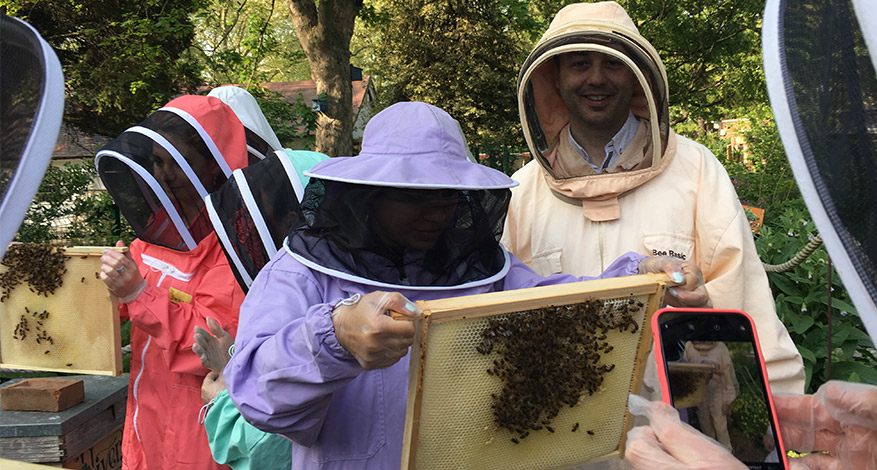 Community
Bee Urban
Improving facilities at a London bee-keeping social enterprise
Bee Urban is a honeybee-centric social enterprise promoting ecologically-sound practice around urban greening, building, farming and particularly bee-keeping.
It's not just about bees however! Over 4,000 people a year visit the site in Kennington. At Bee Urban they work with disadvantaged, vulnerable people including those with mental health needs and learning difficulties. Local pupils learn about the environment, regeneration and wildlife in curriculum-relevant workshops and Volunteers are always welcome.
The Axis Foundation's donation of £5,000 will contribute to making important improvements at the premises of this valuable local resource. These include: creating more planting space – to support the honey bees and to increase local biodiversity; improving the hardstanding to make the site safer and more accessible – particularly for those with mobility issues – and supporting a new aquaponics system.
"The funds from Axis Europe will help us to improve the accessibility of our garden space, enhancing the experience for elderly and disabled people who wish to access the grounds. We have wanted to make these improvements for a while but have lacked the resources to do so. The funds will make this possible and will improve everyone's experience at Bee Urban. Thank You Axis."
Barnaby Shaw, Bee Urban
The Axis Foundation reached a decade of donations this year. Read more about our 10th Birthday here and share the good news #10YrsGiving