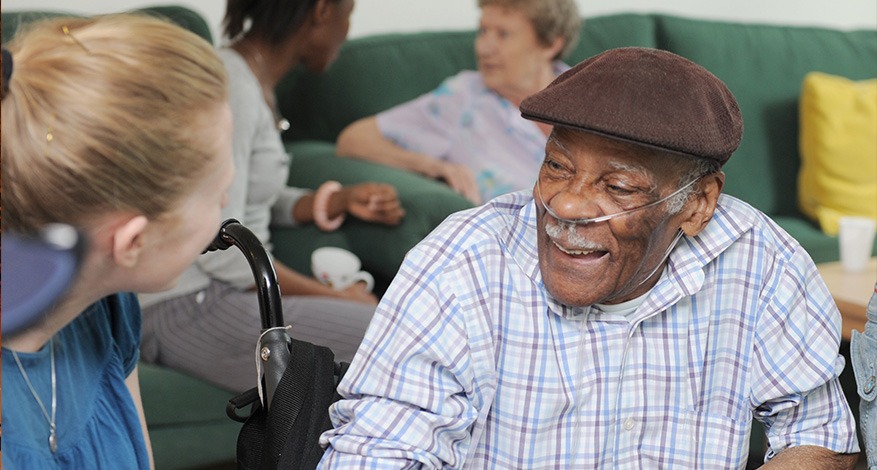 Care
St Joseph's Hospice
Specialist machine for Lymphoedema sufferers
£4,000 from the Axis Foundation purchased east London's St Joseph's Hospice a Flowtron Hydroven 12. This is a specialist machine for Lymphoedema sufferers to relieve the pain and swelling that are common with this condition.
"Receiving funding from the Axis Foundation is brilliant news and our patients will definitely benefit from this donation. Lymphoedema can be extremely disfiguring and health services are specialist and scarce so very often people miss out on getting treatment that can help. The Hydroven 12 machine will offer treatment to those people that would otherwise not be able to access or tolerate other lymphoedema treatments. It will enable people to have treatment in their own home and continue to work and live a normal life, which is vital to people who have a life-limiting condition. We are extremely grateful to all those involved" – Kim Barlow, Specialist Palliative Physiotherapist and Lymphoedema Practitioner
What is Lymphoedema?
Lymphoedema is a long-term (chronic) condition that causes swelling in the body's tissues. It can affect any part of the body, but usually develops in the arms or legs. It develops when the lymphatic system doesn't work properly.
How The Flowtron Hydroven 12 works
The Flowtron Hydroven 12 machine has an arm and leg sleeve, which inflates and deflates to massage the lymph channels and glands, encouraging drainage of fluid out of an enlarged limb. The machine mimics the practitioner's lymphatic drainage hand massage technique
Benefits for sufferers
Flowtron Hydroven 12 sessions are shorter than those with a clinical practitioner
Sufferers can experience a beneficial 10- -day course of treatment at home without having to take time off work/interrupt their lives