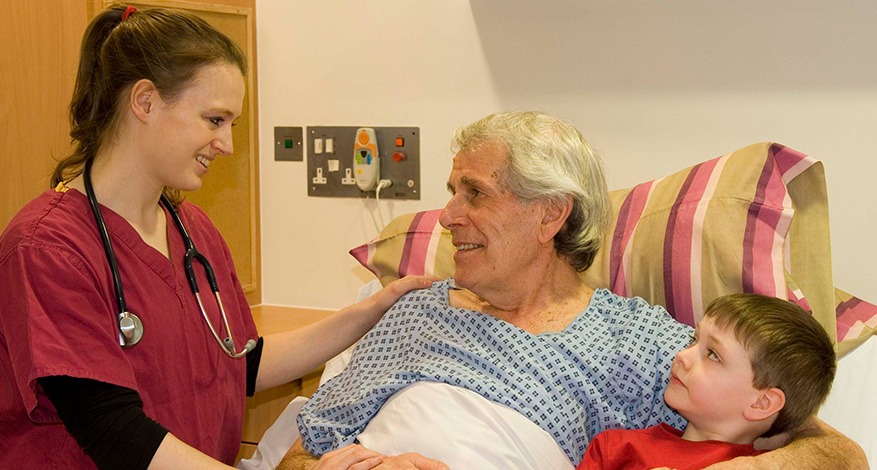 Care
St John's Hospice
New chairs support patients with limited mobility
St John's Hospice provides specialist palliative care services to over 2,000 people each year suffering from life-limiting illnesses or long-term conditions. The Axis Foundation donated £4,470 to the hospice, buying three patient chairs to help patients to sit and stand, as well as aiding nurses with bed transfers and hoisting.
Before we made our donation, the chairs at the hospice were low in number and of poor quality. Our new chairs will facilitate simple tasks such as sitting and standing. They also provide extra support for those who are unable to maintain their body posture. The chairs provide more than just physical support to patients with limited mobility; it helps them to build up their confidence, self-esteem and independence again.
 'I was delighted to hear the wonderful news of support from the Axis Foundation. I cannot thank the Foundation enough for this generous grant of £4,470 for new specialist patient chairs for use on our Inpatient Unit. Upgrading patient seating will allow us to meet the increasingly specialised needs of patients and maintain our high standards of care.' Steve Barnes, Hospice Director
Previous Support from the Axis Foundation
In 2014, the Axis Foundation donated £2,000 to the hospice. This enabled them to purchase specialist laser equipment that helps patients with limited mobility due to painful swelling and heaviness in their limbs. The laser reduces patients' pain and discomfort through its ability to soften tissue and reduce limb swelling.  It can also improve scar tissue (post mastectomy), increase the time it takes to heal wounds and boosts the immune system. The laser specifically helps those suffering from upper and lower limb Lymphoedema. Without adequate treatment, lymphoedema can have major effects, including long-term disability, difficulties with work and emotional problems.
"We are very grateful for voluntary grants and donations like this from The Axis Foundation which enables us to provide a much-loved service to vulnerable people with life-limiting illnesses" – Laura Marazzi, Trust Fundraising Manager
More About St John's Hospice
The hospice, based in Central London, is the largest palliative care provider in Westminster and cares for people suffering from cancer, HIV, motor neurone disease and other terminal illnesses. People in their care need support with a wide range of symptoms including acute pain, severe mobility problems, anxiety, breathlessness and weight loss. This includes patients with advanced neurological conditions such as Motor Neurone Disease, Multiple Sclerosis and brain tumours.
A Message from St John's Hospice on our 10th Birthday
For our 10th Birthday, St John's Hospice had a message of thanks for the Axis family: