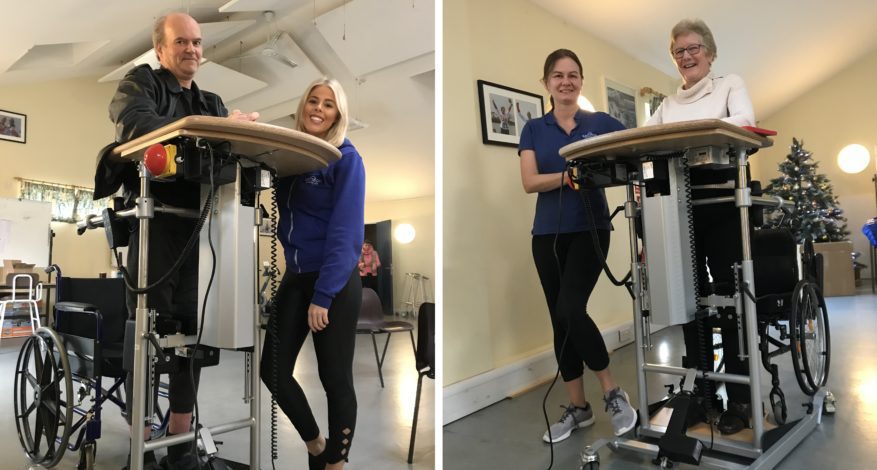 Disability
The Samson Centre for MS
Funding the purchase of an electronic standing frame for MS sufferers
The Samson Centre provides practical and emotional help for people living with Multiple Sclerosis in Surrey and nearby areas. Our donation of £8000 will buy a much-needed electronic standing frame as well as a mini arm support.
This is such a special piece of equipment – Jackie Payne, Centre Manager
Electronic standing frames improve the quality of life for people with MS. Exercise is difficult because of limited balance, which means certain muscles are rarely used. This can weaken the body and cause a fear of falling. The frames help wheelchair bound people to stand on their own feet and exercise without that fear. They stimulate muscles that need it, while a mini arm support is used for people who need arm strengthening.
The frames play a vital role at the Samson Centre, because they help people to exercise and stay active. A new electronic frame lasts for 10 years and wheelchair users work with them on a daily basis.
Jackie Payne, Centre Manager said: "We are so grateful to the Axis Foundation for their generous donation for the purchase of a new standing frame. This is such a special piece of equipment as it allows wheelchair users to benefit from standing while they are at the Samson Centre for MS."
More About The Samson Centre for MS
The Samson Centre for MS is a charity based in Guildford, Surrey. They provide physiotherapy sessions, exercise classes, and oxygen treatments, with access to adaptive rowing. Also, they have 3 fitness instructors, 2 rehabilitation assistants and a volunteer coach for the adaptive rowing, working on a part-time basis.
To find out more, visit www.samsoncentre.org.uk