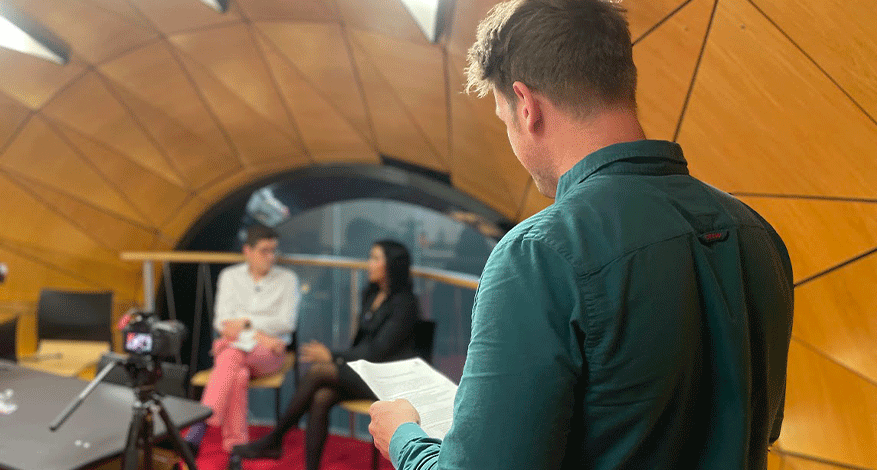 Care
LivedHealth
Creating videos to help people with MS
People with MS and Parkinson's host Lived Health's patient-led videos which empower patients and support carers.
The Axis Foundation's 2022 donation of £3,000 helped fund LivedHealth's video MS101 project in which hosts share their unique and honest perspectives on the issues of receiving and adapting to an MS diagnosis, and interview leading, international MS professionals on a range of topics.
"Many patients with MS feel lonely and isolated as they may not know anyone else with the condition that they can talk to or learn from. We're incredibly grateful to the Axis Foundation for recognising the importance of patient-led resources and supporting us with our project" – Harriet Arnold, Trusts Fundraiser
The Foundation was delighted to learn that this video has been seen 170,000 times by an estimated 15,000 people in a year.
Second donation
And, in 2023, the Axis Foundation donated £4,000 to LivedHealth to make a follow up series of videos, exploring the topic of people with MS who believe their symptoms are getting worse, but whose belief is not supported by scan results. Thanking the Foundation for our second donation, Harriet Arnold said:
"We would like to extend our thanks to the Axis Foundation for your generous donation of £4,000 towards our "Is Smouldering MS the New MS?" video series. Last year, your donation of £3,000 was instrumental in the success of MS101; we are delighted that you have chosen to continue your support. This cutting-edge research topic could change the lives of people living with MS and, thanks to your donation, we can reach many more individuals in the community.

We are immensely grateful for your contribution to our cause here at LivedHealth. Your kindness will directly help those we serve and our whole team appreciates it. We look forward to continuing this partnership and keeping you updated with the progress of the new video series."
See LivedHealth's Thank You video here
More about LivedHealth videos
LivedHealth's videos on YouTube and Facebook reach a wide and diverse global audience and support people with MS, their loved ones and healthcare professionals. They feature industry-leading international professionals, and provide fellow patients with the knowledge, skills and confidence to make positive lifestyle changes and optimise their engagement with health services.
See one of their videos here and find out more about LivedHealth here