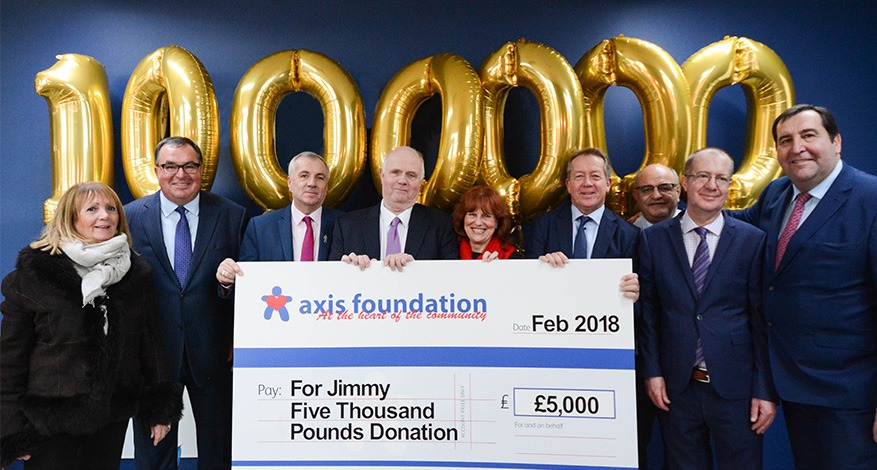 News
Axis Foundation milestone – one million pounds donated
Little charity celebrates donating a whopping one million pounds to small, local and impactful causes
In 2009 we started as a little charity with a big ambition: to give back to the areas that we are from and where we've grown, and to make a positive difference to the people and communities in those areas.
Fast forward to 2018 and the Axis Foundation is celebrating having given away one million pounds to over 110 such causes. PLUS we scooped the Corporate Foundation category of the Business Charity Awards!
"I set the Foundation up originally to try and formalise and capture all the elements of "Giving" that we were already doing right across the company, to say it has exceeded my wildest expectations would be a massive understatement" John Hayes: Trustee, Axis Foundation; CEO, Axis Europe plc 2018
Our Millionth pound!
Our donation in 2018 to South East London charity For Jimmy took our total donations over the one million pounds mark.
"Whilst the value (one million pounds) is nice, we like to think about all the people behind the donations. Those who have been helped and those who have contributed, through fundraising and generous giving. This donation milestone celebration represents all of them." Peter Varney, Chairman, Axis Foundation
How the Foundation helps
Perhaps money can't buy happiness, but our one million pounds has bought a lot of smiles, support and relief to those who need it most.
The Foundation has helped hospices and specialist nurses to care for those with life limiting illnesses; contributed to scientific breakthroughs that extend life; provided mobility to those without it; reduced social exclusion; funded adapted minibuses and provided a lot of care, equipment, therapy, outings and experiences.
And that's just a few of our projects! The number and size of donations has grown each year but we have stayed true to focusing on small, local and impactful charities and causes. We are on an exciting philanthropic journey that is continues to gather momentum each year.
"What is really exciting is that we are growing all the time and giving more to people and organisations in the communities we work in identified by our kind and caring people." – John Hayes: Trustee, Axis Foundation; CEO, Axis Europe plc. 
Our Foundation fundraiser activities
The funds donated by The Axis Foundation come from an annual corporate donation from Axis Europe plc and funds raised through a charity ball and golf day as well as many fundraising events participated in by the people who work at Axis.
Thanks a Million!
Thank you to everyone who has supported us, worked with us, fundraised or given – indeed, thanks a million.